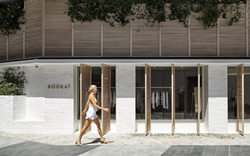 The core of what we needed was design, development, and Bill of Material creation, and BeProduct was much more appealing than larger PLM vendors, whose platforms are either very expensive or very basic. That's exactly what BeProduct sets out to offer, and they do it well
NEW YORK (PRWEB) January 26, 2021
BeProduct is proud to announce that multinational womenswear brand Kookai has chosen its collaborative digital product platform as a central pillar of its global design and development technology ecosystem.
As part of a project spearheaded by Kookai's Australian headquarters, the brand will implement BeProduct in its design centers in Paris and Melbourne, as well as in sampling and patternmaking offices and wholly-owned factories in Fiji and Sri Lanka. Overall, more than 40 Kookai users, spread across four locations, will rely on BeProduct as a central source of critical product data, an enabler of digital product creation, and as a channel for remote collaboration.
Founded in 1983, in Paris, Kookai expanded to Australia, the UK, and other global markets under a license arrangement before its Australian office steadily brought the full suite of licenses back under central ownership. This heritage, as well as contributing to Kookai's unique Parisian fusion aesthetic, created a complicated working relationship between disconnected teams operating on different continents. While Kookai's production facilities could be monitored from anywhere, prior to adopting BeProduct, its design and sampling offices were working in relative isolation.
That lack of global visibility was one of the major challenges the company tapped BeProduct to help solve. "We needed a design and development platform that was collaborative, highly visual, and intuitive for all our users to adjust to, so we could obtain the same level of insight into our design and development as we had into our production," said Jacqui Lowe, Global Technical Officer at Kookai Australia. "In our structure, product design can start anywhere, so our goal was to find a solution that our designers in Australia or France could add their concepts to, and from which patternmakers in completely different locations could then pick up those designs and start developing. And we needed all that with a great frontend experience and an affordable cost of entry. Which is how we landed with BeProduct."
Advanced users of digital product creation technology, Kookai also required a platform that offered robust links to Browzwear's vStitcher, allowing the brand to continue simulating every design in 3D prior to producing a physical sample. This was a key criterion in the company's decision to work with BeProduct, since its digital product platform has comprehensive, native integration to Browzwear and other leading 3D solutions.
Prior to selecting BeProduct, Kookai had also evaluated the full spectrum of product lifecycle management (PLM) solutions, and found their functionality too unfocused, and their cost of ownership too high in comparison to the cloud-native, subscription-based BeProduct.
"The core of what we needed was design, development, and Bill of Material creation, and BeProduct was much more appealing than larger PLM vendors, whose platforms are either very expensive or very basic. That's exactly what BeProduct sets out to offer, and they do it well" added Lowe.
Two further technological considerations were also factors in Kookai's choice of BeProduct: its distributed architecture, which makes the platform accessible from anywhere in the world, with no servers to lease or maintain; and its approach to integration through open APIs, which will allow Kookai to link BeProduct with its ERP, factory control and other enterprise systems.
"Despite being founded nearly 40 years ago, Kookai is a cutting-edge company, and one we are proud to have as BeProduct partners," said Oshana Pinto, BeProduct's VP of Product. "From their commitment to 3D, to their objective of digitizing the entire, multinational concept to production workflow, the Kookai team has deeply thought about digital transformation, and they do not invest in technology lightly. We are honored that BeProduct has become a key component of their vision."
About BeProduct (http://www.beproduct.com)
BeProduct is the cloud-native, collaborative Digital Product Platform. Low-code and fully-featured, BeProduct works seamlessly with the services you love.
About Kookai (http://www.kookai.com.au)
KOOKAÏ was originally founded in Paris in 1983 with a simple vision to offer fashionable, high quality pieces at accessible prices. In 1992, the founders of KOOKAÏ Australia, Robert Cromb and Danielle Vagner, introduced the Parisian label into the lives and wardrobes of the Australian woman, with the opening of their first boutique on Melbourne's Chapel Street. Today, despite over three decades of evolution, KOOKAÏ remains true to its origins in providing a collection infused with Parisian chic, and continuing to provide an opportunity for women to embrace their individuality and the power of expression through their wardrobe.
BeProduct is a registered trademark of Wink Software. All other brands and product names may be trademarks of their respective owners.