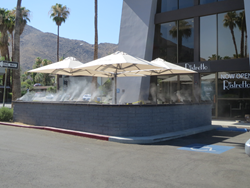 "Due to Covid-19, we have focused our reopening efforts on creating a comfortable patio environment and I would say that installing Koolfog's outdoor misting system has been imperative to maintaining our business operations." - Daniel Phelps, General Manager, LG's Prime Steakhouse
SACRAMENTO, Calif. (PRWEB) August 07, 2020
Outdoor Misting Systems: An Important Part of Your Covid-19 Restaurant Reopening Strategy
Koolfog outdoor misting systems can impact a restaurants bottom line by cooling outdoor dining spaces with custom designs to seat more guests comfortably. The ever-evolving pandemic has kicked the food industry, literally, to the curb and outdoor dining real estate is becoming more valuable than ever. However, moving your restaurant business outside is not as easy as it may seem, especially, when staff and guests are subjected to the elements. With seasonal temperatures rising, it is important as well as a healthy strategy, to keep people cool and comfortable.
Outdoor Misting Systems Have Become Critical to the Bottom Line
Outdoor misting systems can offer staff and guests a refreshing dining experience on patios, terraces, parklets, balconies, courtyards and new realized spaces while they enjoy a well-deserved outing. Adding to a restaurant's ability to fill more seats, there are a variety of custom solutions to accommodate different architecture and structural requirements for an optimum environment.
According to Daniel Phelps, General Manager and a member of the LG Prime Steakhouse family of restaurants, "Due to Covid-19, we have focused our reopening efforts on creating a comfortable patio environment and I would say that installing Koolfog's outdoor misting system has been imperative to maintaining our business operations. Our patio business has more than tripled and with repeat customers, we have the confidence that we can offer an optimal dining experience."
Outdoor Misting Systems Set the Tone for Operating Al Fresco
While many restaurants are pivoting to re-purposing spaces, there is also concern that diners will not benefit from the same brand experience they are used to. While most patrons understand the havoc this pandemic has brought to the food service industry, restaurateurs want to maintain the level of quality and service their customers have come to expect.
Creating comfort and providing excellent customer service is the foundation that Koolfog is built on to deliver the highest quality outdoor misting systems to all businesses, both large and small, locally and nationally. That's why Koolfog's high-pressure misting systems are designed with comfort, durability and performance in mind. Outdoor misting systems not only reduce patio heat but they are a tremendous visual marketing tool to let customers know a eating establishment is open. Guests are drawn to sensory experiences and dining out under the misters reaches all of the senses.

People can see that a restaurant is open when the mist is on.
They can identify that the patio is open and providing a safe dining experience outdoors.
They can feel the light touch of mist creating a physical response to its cooling effect.
Foodies can enjoy the taste and smell of an excellent meal in a relaxed environment.
Guests can hear the subtle, calming, rhythms of a fine tuned outdoor misting system.
The idea of creating a full comprehensive experience is something that Sommer Peterson, restaurateur and owner of Shangri La in Fair Oaks, California, has built her reputation on. "I love to create environments and design experiential spaces that go beyond the traditional dining establishment fare. Shangri La is my vision of an urban escape, a place to fully engage and immerse oneself in a 'happy place'. With the pandemic raging, keeping customers and staff healthy and happy is most important. I can't control the outdoor weather, but with outdoor patio misters I can off-set the heat. Kind of like climate control for outside. It's as essential as an indoor AC."
How Does an Outdoor Misting System Work?
Using a Koolfog high-pressure pump, and stainless steel misting lines, a misting system works to atomize water that is delivered to specialty nozzles to create ultra small droplets that fill the air. These droplets instantly interact with their surrounding environments to absorb heat and cool the air as the water evaporates. This streamline process takes effect within moments of activation, and can be designed to cool the surrounding area efficiently and scaled to specific spaces.
Restaurants Benefit from Koolfog's Outdoor Misting System Solutions
Pivoting to an outdoor dining service definitely has its challenges but installing an outdoor misting system can directly impact the economic resilience of a restaurant. Restaurants require a return on investment realized in repeat customers as well as an increased utilization of valued outdoor space. Misters can reduce environmental heat, visually soften an urban environment as well as add to a garden setting. A cool outdoor dining space can benefit a restaurant brand not just during a pandemic but for years to come.
About Koolfog Misting Systems
Koolfog Inc. designs, develops and manufactures award-winning, high-pressure, fog and misting systems for adiabatic cooling, humidification, dust control, fountains and special effects. Koolfog is a world leader in delivering the best in quality high pressure fog and outdoor misting systems that balance performance and function with aesthetics while seamlessly integrating into industrial facilities, greenhouses, grow facilities, landscapes, architectural settings, outdoor patios, theme parks, restaurants, wineries, and resorts.
Koolfog has developed a tight knit team that expertly blends creative thinking with technical disciplines to deliver the right solution. The team focuses as much on the design process as on misting and fog technology. Koolfog designers also pay attention to aesthetics so that your Koolfog systems not only work well but look good too. Koolfog collaborates and innovates with world reknowned supply partners to offer the best while putting quality before pricing.
Koolfog has spent more than 30 years enhancing and perfecting high-pressure fog and outdoor misting systems with reliability and performance as a philosophy. Koolfog design engineers are firm believers that there's no "one size fits all" solution when it comes to selecting and installing a high-pressure fog or misting system. That's why it is important to provide options for size, performance, and control that allow customers to design solutions for any environment.
Covid-19 Company Initiatives
During this COVID -19 crisis, Koolfog's team has continued to focus its efforts on providing necessary fogging solutions to support clients that work in and for food supply, growing and distribution; medical and public health; shipping/logistics; our government military and first responders. From an organizational perspective, the Coronavirus has created the opportunity for management to review and revamp how we do business as well as how we can better serve our customers during this unprecedented time. Koolfog has made significant changes within our manufacturing facility to ensure social distance requirements as well as increased sanitation and sterilization procedures. Koolfog has implemented "No-Contact Servicing" using technology to seamlessly provide repair order detail, approval processes, gain insights into client needs, and accept e-payments from the safety of a mobile device.