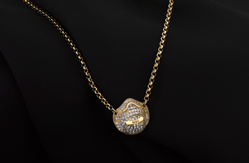 SAN FRANCISCO (PRWEB) October 13, 2020
Today, Kora Kora launches a new line of direct-to-consumer goods beginning with a statement piece called "the mask necklace." Launching on Kickstarter, this unique collector's item represents a symbol of hope and the global fight against the coronavirus.
In addition to marking this historic pandemic, each mask necklace sold offers tangible hope to communities in need. Every necklace represents one kit of supplies to be distributed in low-income areas of Brazil, including those hardest hit by the virus and its economic impacts.
Each mask necklace is meticulously made and is comprised of more than 100 crystals. Each one is carefully placed by hand into position. The statement piece is available in four different colors: gold, silver, aquamarine, and black. The mask necklace was designed by Kora Kora's head designer, Queenie, whose work has been featured in Vogue, InStyle, Harper's Bazaar, Nylon, Paper Magazine, Wonderland, Cosmopolitan, Heroine, King Kong, Schön, etc. Before Kora Kora, she worked for Marc Jacobs, Thom Browne, Oscar De la Renta, and Jeremy Scott.
The company was very much inspired by the "one for one" model for this campaign. Every necklace will directly result in a donation of essential hygiene kits (masks, sanitizer, and disinfectants) and food supplies to communities in need. To make this happen, Kora Kora partnered with two renowned Brazilian NGOs, Project UM and Vozes das Periferias, to fulfill this social mission.
Why Brazil? Brazil currently has the second-highest number of COVID-19 deaths and the third-highest number of cases in the world, with more than 140,000 deaths and 4.5 million cases.
They decided to launch the piece on Kickstarter, as it is a community of early adopters and creative people from all over the world. The company is looking for backers to join them on their unconventional journey. To pre-order, visit pr.go2.fund/korakora.
About Kora Kora
Kora Kora is an innovative demi-fine jewelry brand specially curated for Gen-Z and Millenials. Kora Kora began as an experimental line of jewelry inspired by pop culture, nature, and modern art while capturing a California aesthetic. As a brand, Kora Kora is not bound by anything, and the team decided to create unique pieces for themselves and feel the joy of wearing their statement pieces. The team is always growing and learning from different cultures and having a lot of fun on the way. Every accessory made is timeless, genderless, and open for interpretation. For more information, visit http://www.korakora.com.