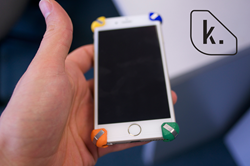 Kornez is the answer to a problem most iPhone users have faced at least once.
Boca Raton, Florida (PRWEB) November 28, 2014
Kornez is the solution to protect iPhones and highlight their design by providing a sleek and customizable cover for each corner of the phone.
Demnard Design LLC, a young product design company based in Boca Raton, Florida, is pleased to announce that it cracked the code of iPhones' protective casings and therefore is launching a Kickstarter campaign. Kornez, a protection for iPhone 5, iPhone 5s and iPhone 6, keeps the phone beautiful and functional. It answers the question many people face when they acquire an iPhone: "Should I hide this amazing piece of design in a case or leave it as it is and take the risk of breaking it?"
Kornez protects iPhones by covering their corners and staying perfectly in place without the need for adhesives. It can be taken off and put back on as many times as needed, making the use of docks and holders a breeze. What makes Kornez work so well is the combination of the gripping power of a rubber-like material and the strength of a stainless steel spring sheet, making it a versatile, easy to use protection. There is a Kornez for everyone and every style, with many colors available and the ability to mix and match to achieve the perfect color combination, or even go for the deluxe editions in silver or 18k gold.
Demnard Design LLC developed Kornez following the release of the iPhone 6, when a new casing system had to be created to keep the rounded edges of the screen apparent. The first prototype began as a chunky piece of plastic and was soon after developed using CAD drawings and then 3D printed. Since the first printed prototype, Kornez held extremely well.
Demnard Design LLC is proud to be the first company to create a functional corner protection for iPhone. But to make this project a retail reality, the Kickstarter goal needs to be reached.