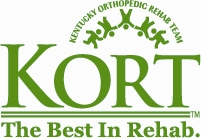 Every injury is a biological, a psychological, and a social issue
Nicholasville, Kentucky (PRWEB) November 18, 2014
Dr. Matt Lee, Clinic Director for KORT's Nicholasville office, uses a three-pronged approach to physical therapy—biological, psychological, and social. KORT stands for Kentucky Orthopedic Rehab Team. Nicholasville is home to one of many KORT offices in Kentucky. Matt Lee, 40, is a native of Ohio. He says he decided in early childhood that he was either going to be a doctor (MD) or a physical therapist. He came down on the side of the latter. His doctorate (DPT) is from Regis University, Denver, Colorado. He also is an orthopedic clinical specialist (OCS), and is a Fellow of the American Academy of Orthopedic Manual Therapists. He joined KORT in 2004 and has been Clinic Director of the Nicholasville KORT office for 10 years.
Dr. Lee believes that any physical rehabilitation project includes a large intellectual component. He and his colleagues at Nicholasville KORT do not see a patient as just somebody with a knee problem, for example. They see a whole person who happens to have a knee problem.
"We must treat patients from a biological approach," Lee says. "Do they have a fracture? Do they have a torn muscle? Do they have a stiff joint? What joint? In what way do they not move? How can we get them moving?" While setting a broken bone or replacing a knee must be done by a physician, of course, and is beyond the physical therapist's field of expertise, Lee believes stopping with biological repair is not very effective. "Every injury is a biological, a psychological, and a social issue," Dr. Lee says.
The most common problem he sees is arthritis in its various forms. "If you have osteoarthritis, for example, there is a biological issue because we are talking about the joint, the pain. We are talking about stiffness, weakness. But it is also a psychological issue. Do you perceive your arthritis as a condition you have no control over, or do you perceive it as a condition over which you do have control and can help yourself? There is also the social approach. How is the arthritis affecting your friends and your relationship to them? How are you going to climb the steps to visit your friends? How are you going to go to church? We look at all those factors together and have the bio-psycho-social approach and it is a much more effective way than just the diagnostic/biological approach alone.…We don't just talk to them about the knee. We talk to them about what they can do about the knee. We educate them a lot in terms of the control they have over the condition, the exercise they can do themselves. That education is a huge component in the search for help. We have conversations with them about the bigger picture. How this is affecting them socially. The things they can do to get their life back."
Dr. Lee says patients are very smart. "They want treatment for their problems, but they obviously want the right treatment." He adds, "I think an important part of what we do is helping the patient understand what he is dealing with and what he can do about it."
Patients frequently come to him afraid to move, Dr. Lee says. The biggest source of fear, Lee believes, is that the patient is afraid of exacerbating something he/she does not understand.
"When they move in a certain way they feel pain. They don't know when they feel the pain whether they are making their condition worse or better. From the point of safety, they say I am not going to move because I might make it worse."
Enter the trained physical therapist. "Many times," says Lee, "the old saying 'movement is medicine' is true. In many cases of musculoskeletal issues, we really do educate them on the importance of knowing what is going on and of knowing what they can do to help themselves. We give them a green light to start moving…a green light that this condition is going to get better and be ok. Many times when they start moving, and overcome their fear, they can start getting on with the rest of their lives. And the bio-psycho-social cycle kicks in. Once that happens, it's a runaway train."
Patients are frequently referred to physical therapy by their primary care physicians or other medical specialists. However, individuals who think they might suffer from a neuro-musculoskeletal condition(achy, pain, strain) and may profit from physical therapy have "direct access," as it is called, meaning they are welcome to make appointments with a physical therapist (the KORT office) themselves. If the physical therapist finds any reason to believe that the condition is beyond their expertise in neuro-musculoskeletal treatment (different than the patient thinks), Dr. Lee and his staff are quick to refer the person to a physician for further evaluation before starting treatment.
Kentucky Orthopedic Rehab Team (KORT) has been specializing in outpatient physical and occupational therapy in Kentucky and Southern Indiana for over 25 years. Local independent operations, allow KORT clinicians to work one-on-one with patients to regain strength, increase flexibility, improve mobility, and reduce pain without drugs or surgery. Selected as a "Best Places to Work in Kentucky" for ten consecutive years, and with over 40 locations, KORT has the most board certified Orthopedic Specialists and Vestibular Rehabilitation specialists than any other provider in the region. KORT's certified athletic trainers provide sports medicine services to more than 30 high schools and colleges in Kentucky & Southern Indiana.