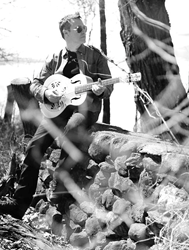 "Combining everything I love about the "classic" era of music, this EP manages to capture the spirit of greats ranging from James Taylor to Zeppelin to The Beatles" - Middle Tennessee Music
New York City, NY (PRWEB) November 04, 2015
Kings of The Brushwood Thicket release their second album, "Kings of The Brushwood Thicket," on the heels of their successful debut, "The Lies You Leave Behind." The self-titled acoustic EP has a classic rock vibe while still remaining low key. Fans of Big Star will enjoy the acoustic rainy Sunday listening, and somber, thought-provoking stories. Kings of The Brushwood Thicket is the acoustic side project of Bruce Erik Brauer, co-founder and guitarist of New York City rock band and Atlantic Records alumni, Dog Society.
Kings of The Brushwood Thicket's single "A Toast To Friends" is a celebration of friends, past and present. Bruce Erik Brauer recalls old friends he has lost touch with and his journey to reconnect with them. Bauer recalls that the song is about an old friend to whom he spoke every year on his birthday, in spite of any obstacles that life was throwing at him. One year Brauer didn't receive a call, which prompted him to try and contact his friend. When he finally tracked her down, what Bruce found was her obituary. The harrowing journey was the inspiration for "A Toast To Friends."
After touring with bands like Stone Temple Pilots and Sheryl Crow in the late '90s, Bruce Erik Brauer wanted a softer melodic and more poetic approach. Bruce released The Lies You Leave Behind earlier this year (May 2015) and was anxious to debut this sophomore release, a 5 song self-titled collection of acoustic stories. He intentionally stripped this down to acoustic guitars, one concert bass drum, accordion, organ, and assorted vocals to begin recording tracks at his home studio (nicknamed "Die Keller") and at FLUX studios on New York City's Lower East Side.
For more information, images, or to arrange for an interview, please contact Melissa Infurna at Powderfinger Promotions: melissa(at)powderfingerpromo(dot)com or visit: http://www.kingsofthebrushwoodthicket.com/
Powderfinger Promotions–Independent Radio Promotion and Publicity. Since being founded in October 1994, Powderfinger has come to be regarded as a top indie radio promotion and publicity firm with ties across North America.