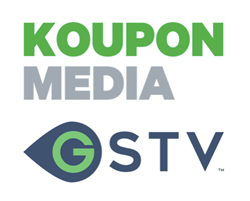 By combining the reach of Koupon's network and mobile offer technology with GSTV's full sight, sound and motion video network, both CPG brands and retailers can better drive customers into the store using compelling digital promotions - Joel Fontenot, Executive Chairman of Koupon Media
DALLAS and DETROIT (PRWEB) September 25, 2018
Koupon Media, the leading mobile offer platform and promotion network in small format retail, and GSTV, the national video network reaching targeted audiences across tens of thousands of fuel retailers, today announced a partnership to deliver mobile offers at fuel dispensers through digital video advertisements. For the first time, brands and retailers can seamlessly deliver mobile offers at-the-pump to drive in-store sales and gain insight into the complete consumer journey at c-stores.
"GSTV and Koupon Media are marching towards the same goal," said Joel Fontenot, Executive Chairman of Koupon Media. "By combining the reach of Koupon's network and mobile offer technology with GSTV's full sight, sound and motion video network, both CPG brands and retailers can better drive customers into the store using compelling digital promotions."
In this new partnership, GSTV will deliver targeted video spots featuring mobile offers linking to Koupon-powered redeemable barcodes. By allowing brands and retailers to deliver in-store redeemable offers across a national video network, the two companies have essentially created a new consumer engagement model for the c-store space.
"GSTV is excited to integrate Koupon Media's promotion network and mobile offer technology with our video network, increasing conversion from the pump to the store." said Dan Trotzer, EVP, Strategy at GSTV. "Not only do redeemable offers make digital video content more compelling, but CPG brands and retailers will now have access to a more complete view of the shopper, from the delivery of the offer at-the-pump to the redemption at the POS inside the c-store."
Koupon Media and GSTV will be demonstrating the capabilities of the partnership this year at NACS. Stop by the Koupon Media booth #6111 to see how mobile offers can be delivered through GSTV.
About Koupon Media
Koupon Media was founded with the mission to be the largest and most advanced digital promotion network in the world. Today, Koupon powers the largest promotion network in small format retail, working with over 40,000 c-store retailers and leading CPG brands to launch mobile offer campaigns that drive sales. Since its founding, Koupon has delivered more than 3 billion offers leading to more than 300 million store trips across its network.
About GSTV
GSTV is a data-driven, national video network delivering targeted audiences at scale across tens of thousands of fuel retailers. Reaching 1 in 3 American adults monthly, GSTV engages viewers with full sight, sound, and motion video at an essential waypoint on their consumer journey. Analysis of billions of consumer purchases demonstrates that GSTV viewers spend significantly more across retailers, services, consumer goods and other sectors, following a fuel transaction. While offering consumers entertaining and informative content, GSTV drives immediate action and creates lasting brand impressions, delivering measurable results for the world's largest advertisers.
Contacts:
Alli Wall
Koupon Media
awall@kou.pn
415.591.8437
Brian Holcomb
GSTV
brian.holcomb@gstv.com
917.810.9633