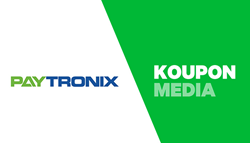 Combining Koupon's mobile offer capabilities and content with Paytronix's powerful loyalty engine has changed the game for our marketing efforts - James Meara, Sr. Manager of Loyalty at Thorntons
DALLAS, Texas and NEWTON, Mass. (PRWEB) September 04, 2018
Koupon Media, the leading mobile offer platform and the largest promotion network in small format retail, and Paytronix, a leading provider of reward program solutions have teamed up to unlock the $182b in CPG products in c-stores. C-store retailers that use Paytronix technology can enhance their rewards programs by leveraging Koupon's mobile offer capabilities and by incorporating its robust database of CPG-funded offers.
"Adding Koupon's CPG mobile offers to the marketing mix presents an incredible opportunity for retailers to attract new shoppers and convert them to lifelong engagement," said Joel Fontenot Executive Chairman of Koupon. "We are excited to work with the Paytronix team as they bring proven customer engagement and loyalty solutions to the industry. Through the partnership, retailers have yet another mechanism to acquire new shoppers and boost repeat visits."
While Paytronix has helped c-store brands retain and grow customer ranks, Koupon's offer platform technology has been proven to boost acquisition by delivering personalized, redeemable offers to customers outside the loyalty program through paid media, social media, SMS, and digital signage. Brands can now connect the sales funnel between acquisition and retention marketing enabling them to find more customers and keep them over a longer period – thereby increasing customer lifetime value.
Louisville-based c-store chain Thorntons is one of the retailers already seeing benefits from the partnership. "Combining Koupon's mobile offer capabilities and content with Paytronix's powerful loyalty engine has changed the game for our marketing efforts," said James Meara Sr. Manager of Loyalty at Thorntons. "Koupon's mobile offer content and capabilities not only help us boost member acquisition, but also ensure we're delivering ongoing value to shoppers who join our program."
"Paytronix continues to find new ways to expand its relationships within the retailers' tech ecosystem, making it easier for marketers to discover new ways to drive transactions," said Michelle Tempesta, Head of Marketing for Paytronix. "Koupon Media's expertise to provide access to CPG funded programs will benefit C-store brands that leverage individual customer data to deliver relevant, compelling and profitable offers."
"Given the intense level of competition in the C-store space, marketers need to focus on understanding their customer – where are they coming from? what are they buying? what compels a visit to the pump and a visit to the store? – that insight includes bringing an unknown person to a known person" says Fontenot. "Connecting Koupon with Paytronix is a step toward solving that challenge for retailers."
About Koupon Media
Koupon Media was founded with the mission to be the largest and most advanced digital promotion network in the world. Today, Koupon powers the largest promotion network in small format retail, working with over 40,000 c-store retailers and leading CPG brands to launch mobile offer campaigns that drive sales. Since its founding, Koupon has delivered more than 3 billion offers leading to more than 300 million store trips across its network.
About Paytronix Systems, Inc.
Based in Newton, Massachusetts, Paytronix is a provider of SaaS customer experience management (CXM) solutions for restaurants and convenience store brands. Through its innovative software design and integrations with more than 30 widely used point of sale systems, Paytronix empowers more than 350 brands across 20,000 locations with the flexibility to build unique, revenue-enhancing guest experiences. Customers benefit from big data consumer insights that Paytronix generates through 1-to-1 engagement with more than 248 million loyal guests—via mobile, social and today's most innovative digital marketing tools. As a result, customers motivate their guests to increase spend and drive revenue. For more information, visit http://www.paytronix.com.