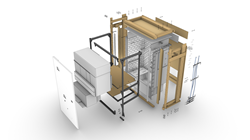 What used to require months of staggered trades and material deliveries can now be accomplished in less than one day by two people.
LAS VEGAS (PRWEB) January 15, 2020
KOVA, the official building products brand of Katerra, will be exhibiting at the International Builders' Show (IBS) in Las Vegas, Nevada from Jan. 21 to 23 in booth C4536. KOVA will introduce several new products focused specifically on helping builders reduce cost and increase speed of installation on a build, including the KOVA Bath Kit, which radically streamlines the traditional approach to bathroom installation. This kitted delivery system consists of all materials, fixtures and finishes to complete a bathroom install up to 70% faster as compared to a traditional build.
"A primary goal of KOVA is to offer solutions to the challenges builders and contractors face during a project, and installing a bathroom is historically one of the most expensive and time-consuming parts of a build," said Trevor Schick, head of the KOVA materials business. "We have spent the last few years developing the KOVA Bath Kit and using them on Katerra-built projects, and now other builders can benefit from the system as well. What used to require months of staggered trades and material deliveries can now be accomplished in less than one day by two people."
TWEET THIS: Official @katerrainc building products brand @KOVAproducts makes its #IBS2020 debut in booth C4536. #KOVA introduces Bath Kits which allow two people to install a bathroom in just four hours, increasing speed of installation by up to 70%. #gobuild https://youtu.be/9as5nslJ3b8
The KOVA Bath Kit is fully assembled at the warehouse level and securely packaged into an innovative cradle delivery system in order of installation. The Bath Kit is delivered directly to the job site and dropped in its final placement within the bathroom space, complete with a sequential installation guide. The system includes a full tub with surround structure, toilet and vanity with sink, quartz countertop and faucet. Also included in the kit are fasteners, paint or caulk required for on-site assembly of the Bath Kit as well as decorative finishes such as mirrors and towel racks.
KOVA will showcase several other new and innovative products at the annual tradeshow, including:

Compact Appliances: Designed for smaller spaces, KOVA's new line of Compact Appliances includes products such as a 24-inch Wall Oven, 24-inch Ceramic Electric Cooktop and Integrated Panel-Ready Refrigerator.
Privacy Pocket Door Lock: This elegant and easy-to-use pocket door solution features concealed screws, minimal seams and a large handle and edge pull for optimal functionality.
For more information about KOVA and its products, please visit kovaproducts.com.
About KOVA
KOVA, the materials brand of Katerra, is a curated product line of interior finishes and fixtures for building and design professionals. The brand is dedicated to the concept that design, quality and value can go together to strike a perfect balance and help bring beautiful spaces to life. KOVA products complement any style through simple, yet cohesive design forms that exceed typical quality and performance standards, without the premium price. The name KOVA is derived from the prefix "co-," meaning "together", and the word "va" which translates to "go" in Spanish. For more information about KOVA and its full catalogue of products, visit kovaproducts.com.
About Katerra
Katerra is a technology company optimizing every aspect of building development, design and construction. With leaders from the most groundbreaking technology, design, manufacturing and construction companies, Katerra transforms how buildings and spaces come to life. Founded in 2015, Katerra has a growing number of domestic and international offices, factories and building projects. For more information visit katerra.com.