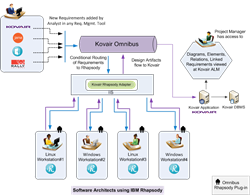 Kovair with its ability to import entire design artifacts from Rhapsody to Kovair ALM platform enables Project Managers to view a complete change history of design projects and gain greater insights into the evolution of software design diagrams
San Ramon, CA (PRWEB) June 02, 2015
Kovair Software, one of the leaders in Integrated Application Lifecycle Management (ALM) today announced release of the Kovair Omnibus Integration Adapter/Connector for Rational Rhapsody – a model-driven development (MDD) environment from IBM. This new adapter enhances Kovair's existing integration capabilities with IBM Rational products for design and development management. IBM® Rational® Rhapsody® Developer is a visual development environment for embedded, real time technical application software development based on the Unified Modeling Language (UML).
Kovair is the IBM Ready for Rational Partner and has already developed several integration solutions for IBM Rational tools of various domains such as Requirements Management, Design, Coding, Configuration Management, Test Management, Change management, Deploy and Release Management. This integration with Rhapsody ensures design models align with requirements, their priorities and changes, as well as codes being developed simultaneously. By integrating IBM Rhapsody in a multi-tool environment, Kovair enables other team members to gain access to Rhapsody UML diagrams from within their own tools, thus leveraging seamless collaboration on design projects among global application development teams.
"Project managers in any Enterprise need better visibility and control of design artifacts being created, changed and reviewed among large development teams. Kovair with its ability to import entire design artifacts from Rhapsody to Kovair ALM platform enables Project Managers to view a complete change history of design projects and gain greater insights into the evolution of software design diagrams," said Bipin Shah, CEO and Chairman of Kovair.
"With traceability feature of Kovair, Project managers can also trace any diagram back to the original Requirements to understand which design artifacts have been created against which requirements; what the impacts of newly added/modified requirements are on design models, and how efficiently the design team responds to ever-changing requirements," added Shah.
"Kovair integration with IBM Rhapsody allows Software Architects to view Requirements being added from any Requirement management tool like IBM DOORS NextGen, Jama or Rally; create design models according to specific Requirements and then link them to the original Requirements. The Requirements, Linked diagrams and Element details along with their interrelationships can be synced back to an ALM platform where an entire hierarchy of design artifacts along with Diagrams as images can be viewed. Architects can also modify Requirements within Rhapsody and flow them back to the original Requirement management tool via Omnibus," said J. Datta, Director of Omnibus Product Development at Kovair.
"While integrated, developers can also view and consult design models for coding as well as track design implementation status against approved diagrams from within their preferred IDEs," added Datta.
Kovair facilitates Rhapsody integration using its two components - Kovair Rhapsody Adapter and Kovair Omnibus plug-in for Rhapsody. Being Java based, Kovair Omnibus plug-in works in IBM Rhapsody installed on both Windows as well as Linux OS, thus avoiding platform dependence for Software Architects. The adapter along with plug-in expose Rhapsody Projects, Diagrams, Elements and their relationships to Kovair and other tools connected through Omnibus, thus providing a centralized view of design artifacts for unified software development.
Kovair Rhapsody Integration – The Value Propositions
1. Seamless Tool and Team collaboration – Business analysts, Architects, and Developers can easily access the design artifacts in a multi-tool environment and collaborate real-time.
2. Traceability View for Management – Project Managers can see complete traceability between design artifacts, requirements and development codes.
3. Tool Flexibility for Architects - Software architects can work on the new set of Requirements coming from other tools without leaving Rhapsody, their preferred work environment.
4. Consolidated Project View and Change History – Project Managers can track series of changes in any individual model diagram at a granular level and understand what, when and how of any iteration.
The Kovair Omnibus adapter and plug-in for IBM Rhapsody, are already available for enterprise use. The live demonstration of the integration scenario can be scheduled in advance and run through web conferences by contacting the Kovair Omnibus Team.
For any further information please contact marketing(at)kovair(dot)com.
Share this: #KovairOmnibus #OmnibusIntegrationAdapter for @Rhapsody
About Kovair Software:
Kovair Software is a Silicon Valley software product company specializing in the domain of Integrated Application Lifecycle Management (ALM) solutions and supports global software development and management. Kovair's focus on integrating third party best-of-breed ALM tools enables development of applications in a synchronized tools environment.
Kovair's flagship products Omnibus Integration Platform, ALM Studio and Integrated Test Management are highly preferred solutions by some of the major corporations globally.