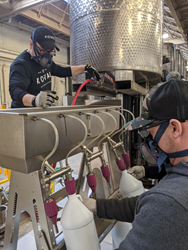 Our goal is to provide this vital product free of charge to as many organizations in need as we possibly can.
CHICAGO (PRWEB) March 25, 2020
During these unprecedented times of the COVID-19 pandemic, communities are pulling together to do what they can to help keep healthcare workers and those vulnerable to the virus as safe as possible. KOVAL Distillery, one of the largest independent and woman-owned craft distilleries in the U.S., has partnered with MedSpeed, the market-leader in healthcare intra-company logistics - the movement of the items needed to provide care between all the places where care is delivered - to distribute the hand sanitizer the distillery is now producing. MedSpeed will distribute hand sanitizer to the medical community and other Chicagoland institutions that need it.
KOVAL began production with 150 gallons of hand sanitizer on March 23, 2020 and expects to produce hundreds, or even thousands, of gallons over the next few weeks. MedSpeed will begin delivery to a designated list of healthcare facilities in need on March 27, 2020.
"The demand for alcohol-based sanitizers is great, and our communities are experiencing extreme shortages," said Dr. Sonat Birnecker Hart, Co-Founder and President, KOVAL Distillery. "Our goal is to provide this vital product free of charge to as many organizations in need as we possibly can. We are grateful to everyone who has come together to donate on our GoFundMe page to help us and to MedSpeed for helping out as well."
"MedSpeed's mission is to deliver health to the communities we serve," said Bonni Kaplan DeWoskin, Vice President, Marketing and Strategic Partnerships, MedSpeed. "While we are laser-focused on keeping our MedSpeeders safe and protected and serving our healthcare customers during this challenging time, we are thrilled to be able to partner with KOVAL to get this much needed product out to healthcare organizations in need."
KOVAL has noted that the company will not have hand sanitizer available for the general public at this time.
About KOVAL
KOVAL Distillery is known for creating a line of organic & kosher certified whiskey, gin, and specialty spirits using unique grains, a signature "heart cut" technique, and only the absolute best quality ingredients. As one of the largest independent and woman-owned craft distilleries in the US, KOVAL is frequently awarded internationally for its bright flavors and eye for design. As of March 2020, KOVAL has shifted 100% of its operations to help provide alcohol-based sanitizer to those on the front lines in the fight against COVID-19. For more information about KOVAL's hand sanitizer production or to donate to help KOVAL continue to be able to offer hand sanitizer to health systems in need for free, visit bit.ly/kovalsanitizer. Please send requests for hand sanitizer to sanitizer@kovaldistillery.com.
About MedSpeed
With 140+ locations in 29 states, MedSpeed is the market-leading organization in healthcare intra-company logistics. Since 2000, MedSpeed has partnered with healthcare organizations to transform same-day transportation (courier) from a cost center into a strategic intra-company logistics asset that delivers long-term returns. Using transportation to drive economic value in areas well beyond transportation itself, enables MedSpeed's customers to share equipment between facilities, reduce capital expenses and disintermediate the use of third-party shipping for the delivery of medical supplies to physician offices and clinics. Creating a strong, fully connected logistics network supports the centralization or outsourcing of other functions including redundant laboratories and fill pharmacies, print shop, mail, linen and more.