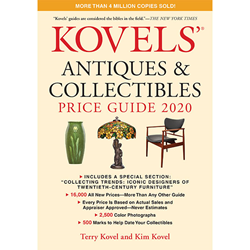 CLEVELAND (PRWEB) September 20, 2019
Kovels' Antiques & Collectibles Price Guide 2020 is ready to go and will be available in bookstores September 24th. The all-new 52nd edition features 16,000 prices, 2,500 photographs, and 500 factory marks to identify and date antiques. Readers will also enjoy the special section on "Collecting Trends: Iconic Designers of Twentieth-Century Furniture."
With more tips, more marks and more prices than any other competitive price guide on the market, Kovels' Antiques & Collectibles Price Guide 2020 has the information collectors need to quickly identify and price their items. The book is arranged in over 700 categories sought-after by collectors, including Advertising, Furniture, Glass, Jewelry, Porcelain, Pottery, Sports, Toys, and more.
Kovels' focus has always been on prices for antiques, collectibles and design used in American homes. It's the only guide that empowers collectors with the most up-to-date price information based on actual sales and market data.
Author Terry Kovel says, "We know you'll enjoy our new price book filled with thousands of beautiful photos, up-to-date prices and loads of information you can't be without. We've spent years building our research library, and our team works every day to get prices as up to date as possible."
Casual and expert collectors have turned to the Kovels for their expertise for more than 50 years. Over that time, Americans have become much savvier and collecting has become much more popular. But what has remained the same is the anticipation and need each year for the newest Kovels' Antiques & Collectibles Price Guide.
Buyers of Kovels' Antiques & Collectibles Price Guide 2020 on Kovels.com can take advantage of a special offer, choosing between two free gifts: a printed booklet, "Fakes, Fantasies & Reproductions No. 21," with tips on how to spot fakes, repros that look like originals, and fantasy items to watch out for (a $7.95 value) or the Kovels' Antiques & Collectibles 2020 Companion eBook that lists all the items, prices and category information in Kovels' printed price guide (no images), downloadable to your Kindle, Nook or other eReader tablet or smartphone app (a $14.99 value). This offer is only available on books ordered from Kovels.com. Kovels' 2020 Price Guide can be ordered now for delivery after September 24th.
Terry Kovel is one of America's foremost authorities on antiques and collectibles. She is the well-known columnist and author of more than 100 books on antiques and collecting, including the newest – the 2020 edition of "Kovels' Antiques & Collectibles Price Guide," now ready for pre-order at Kovels.com and soon to be available at local bookstores. Terry Kovel will discuss antiques and collectibles topics with accredited media. Photographs are available. Contact pr(at)kovels(dot)com.
About Kovels.com
Kovels.com, created by Terry Kovel and her daughter, Kim Kovel, provides collectors and researchers with up-to-date and accurate information on antiques and collectibles. The company was founded in 1953 by Terry Kovel and her late husband, Ralph. Since then, the Kovels have written hundreds of articles and more than 100 books about antiques, including the best-selling annual "Kovels' Antiques & Collectibles Price Guide." Their nationally syndicated antiques and collectibles newspaper column is distributed by King Features Syndicate to many newspapers nationwide. Terry and Ralph starred in television series on PBS, the Discovery Channel, and Home & Garden Television (HGTV). The website, Kovels.com, has been online since 1998. It offers more than a million antiques and collectibles prices, marks, readers Q & A, and much more. Readers can subscribe to the free weekly eNewsletter "Kovels Komments," that offers a bird's-eye view of the market with the latest news and readers' questions with answers.
Contact Information:
Liz Lillis
216.752.2252
Pr(at)kovels(dot)com