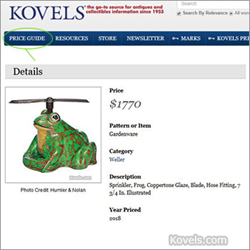 CLEVELAND (PRWEB) January 25, 2019
More than 20,000 prices and 2,500 color photos of antiques and collectibles have been added to the already comprehensive Kovels.com online price guide guide. All this new information will help collectors accurately price collectibles and identify current market trends, making collecting fun and profitable! Need a guide for buying selling, appraising or settling an inheritance? Look no further. Kovels' prices are current, from sales at shops, shows, flea markets, auctions, online sales, dealers and other sources. They are all double-checked for accuracy by Kovels' experts using their own AccuValue™ system and they range from $1 to $87,500.
The range of objects pictured and listed is fun to explore! Rare treasures include the George Ohr vase with a twisted body, ribbon handles and feather glaze that sold for $87,500, an 1800s architectural English walnut mantel for $3,960, and a marble water closet that brought $3,500. There was even a trunk used for transporting human blood that sold for almost $400, and a 19th century medical prosthetic stump with a leather boot for $403. Smaller, quirky items include a Curious George PEZ candy container for $1 and a 1940s blue, green, red and yellow Akro Agate corkscrew marble for $55.
Other listings reflect increased collector interests, including Pyrex cookware, clothing, glass, ceramics and furniture from the 1950s to 2000, as well toys, banks, art pottery and artists' personal collections. Prices from a few famous bottle collections that were auctioned are included, as well as examples of prices from single collector auctions of dolls, Victorian glass, lamps with leaded glass shades and Tiffany of all types that drew high prices.
Two generations of Kovels edit the content, so Kovels' online price guide lists pieces made from the 1700s to as recently as 2000. Like the book Kovels' Antiques & Collectibles Price Guide, the Kovels.com online price guide is organized into more than 750 categories that represent the top collecting interests. Category descriptions include information on makers, history, age and marks.
Visit Kovels' updated online price guide and see for yourself what treasures await collectors!
Terry Kovel is one of America's foremost authorities on antiques and collectibles. She is the well-known columnist and author of more than 100 books on antiques and collecting. The 2019 edition of Kovels' Antiques & Collectibles Price Guide is available at Kovels.com and local bookstores. This all-new 51st edition of Kovels' popular annual price guide features 16,000 prices and more than 2,500 photos, larger than ever before, on items in categories most sought-after by collectors. New this edition – 300 marks to help identify and date pottery, porcelain, glass and other collectibles. Terry Kovel will discuss antiques and collectibles topics with accredited media. Photographs are available. Contact pr(at)kovels(dot)com.
About Kovels.com
Kovels.com, created by Terry Kovel and her daughter, Kim Kovel, provides collectors and researchers with up-to-date and accurate information on antiques and collectibles. The company was founded in 1953 by Terry Kovel and her late husband, Ralph. Since then, the Kovels have written more than 100 books and hundreds of articles about antiques, including the best-selling annual Kovels' Antiques & Collectibles Price Guide. Their nationally syndicated antiques and collectibles column is distributed by King Features Syndicate to many newspapers nationwide. Terry and Ralph starred in television series on PBS, the Discovery Channel, and the Home & Garden Television (HGTV). The website, Kovels.com, online since 1998, offers more than a million free prices, and includes a free weekly email, "Kovels Komments." It gives readers a bird's-eye view of the market through the latest news, auction reports, a Marks Dictionary, readers' questions and answers and much more.
Contact Information:
Liz Lillis
216.752.2252
Pr(at)kovels(dot)com