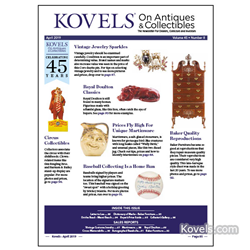 CLEVELAND (PRWEB) March 29, 2019
Distinctive pottery made by the Martin Brothers of England from the 1870s to 1915 is featured in a sale report in Kovels On Antiques & Collectibles April 2019 newsletter. Martinware, as pieces are known to collectors, was made mostly of salt-glazed stoneware and prices for their grotesque bird-like creatures called "Wally Birds" fly high. Kovels' pictures the Wally Bird tobacco jar that auctioned for $37,000 along with other pricey Martinware examples.
Baker Furniture Co. has a rich tradition, making authentic reproductions that stand the test of time. Their workmanship is so good they have been asked to repair museum-quality pieces. A recent Detroit auction proved Baker's continued collectability and Kovels' April newsletter pictures vintage Baker chests, cabinets and tables with prices. Also find the coordinating April Dictionary of Marks illustrating Baker markings through the years.
Autographed baseballs are always a home run for sports-crazy collectors. As the baseball season gets underway, Kovels' reports on autographed baseballs recently auctioned in Dallas. See baseballs signed by notable New York Yankees, Detroit Tigers and others in Kovels' latest issue. Royal Doulton is still found in many homes and some classic pieces auctioned in Kansas caught Kovels' eye. See vintage Royal Doulton from Bunnykins to Sung Ware with figurines and flambe in between in the April newsletter.
Circus memorabilia is always a hit and Kovels' pictures nostalgic remembrances of circus days gone by. Examples in the latest newsletter include a Ringling Bros. and Barnum & Bailey circus wagon wheel, carousel panel and performer's garb along with selling prices from the Florida auction at which they sold. And Kovels' can never feature enough costume jewelry – this time from an Indiana auction that offered hundreds of marked pieces by midcentury makers such as Schiaparelli, Kenneth Jay Lane, Miriam Haskell and others.
The Kovels go "on the road" to Miami Beach to explore the Miami Beach Antique Show. Kovels' popular illustrated Collector's Gallery answers readers' questions about a Royal Bayreuth bowl, an ironstone pitcher, a souvenir silver tower box and a Bavarian porcelain dish. More than 70 antiques and collectibles are listed in the April Buyer's Price Guide.
Kovels On Antiques & Collectibles is available as a print subscription, or as a digital version that is part of the Kovels.com Premium subscription.
Terry Kovel is one of America's foremost authorities on antiques and collectibles. She is the well-known columnist and author of more than 100 books on antiques and collecting. The 2019 edition of Kovels' Antiques & Collectibles Price Guide is available at Kovels.com and local bookstores. This all-new 51st edition of Kovels' popular annual price guide features 16,000 prices and more than 2,500 photos, larger than ever before, on items in categories most sought-after by collectors. New this edition – 300 marks to help identify and date pottery, porcelain, glass and other collectibles. Terry Kovel will discuss antiques and collectibles topics with accredited media. Photographs are available. Contact pr(at)kovels(dot)com.
About Kovels.com
Kovels.com, created by Terry Kovel and her daughter, Kim Kovel, provides collectors and researchers with up-to-date and accurate information on antiques and collectibles. The company was founded in 1953 by Terry Kovel and her late husband, Ralph. Since then, the Kovels have written more than 100 books and hundreds of articles about antiques, including the best-selling annual Kovels' Antiques & Collectibles Price Guide. Their nationally syndicated antiques and collectibles column is distributed by King Features Syndicate to many newspapers nationwide. Terry and Ralph starred in television series on PBS, the Discovery Channel, and the Home & Garden Television (HGTV). The website, Kovels.com, has been online since 1998. It offers more than a million free prices, and includes a free weekly email called "Kovels Komments," giving readers a bird's-eye view of the market through the latest news, auction reports, a Marks Dictionary, readers' questions and answers and much more.
Contact Information:
Liz Lillis
216.752.2252
Pr(at)kovels(dot)com