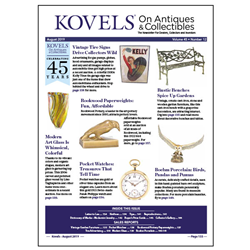 CLEVELAND (PRWEB) July 25, 2019
Vintage garden furniture auctioned in Philadelphia is featured in a sale report in Kovels On Antiques & Collectibles August 2019 newsletter. Kovels' focuses on rustic stone and cast-iron benches with naturalistic elements like leaves, grapevines and tree trunks. Be sure to see the pair of cast iron benches with oak leaves and pinecones that brought more than $18,000.
Bidders took time to admire antique pocket watches at a New Hampshire auction. Kovels' latest newsletter pictures American-, British- and Swiss-made timepieces with open faces or hunting cases that spoke of an elegant era of accessories. The most expensive, a working 14-karat gold c.1885 Waltham model, sold for $20,000, while a Swiss Civil War-era watch with a battlefield image on its face brought $400. Other examples were priced in between.
Rookwood pottery has been popular for over 100 years and their large, important pieces sell for thousands of dollars. But they also made small and useful pieces that are sometimes overlooked, like the paperweights pictured in the August newsletter. See paperweights depicting a monkey, squirrel, duck, bear, frog and others that sold for hundreds of dollars, as well as the Rookwood "crossover" advertising paperweight picturing the company name that brought $3,000. More advertising collectibles can be viewed in Kovels' August issue, and they have tires as their subject. Vintage signs with famous names and trademarks were auctioned in Indiana, and it doesn't take an automobiliana collector to recognize the companies and clever logos of Firestone, Michelin, Goodyear, Pirelli, Dunlop and others.
Modern glass vessels by contemporary glass artists auctioned for high prices in New Jersey. Find brilliantly colored glass in unpredictable shapes by Lino Tagliapietra, Dale Chihuly and William Morris along with their prices in Kovels' newsletter. And, finally, a selection of perennially popular porcelain figurines by Boehm is also part of the August issue. Sold at auction in Atlanta, the delicate detailed and hand-painted pieces depict plants, birds and animals.
Kovels' popular illustrated Collector's Gallery answers readers' questions about a porcelain hatpin holder, a set of Old Maid cards, a Royal Bayreuth pitcher and a marked silver-plated bowl. The August Dictionary of Marks lists makers of modernist-style jewelry. And more than 70 antiques and collectibles are listed in the August Buyer's Price Guide.
Kovels On Antiques & Collectibles is available as a print subscription, or as a digital version that is part of the Kovels.com Premium subscription.
Terry Kovel is one of America's foremost authorities on antiques and collectibles. She is the well-known columnist and author of more than 100 books on antiques and collecting. The 2019 edition of Kovels' Antiques & Collectibles Price Guide is available at Kovels.com and local bookstores. This all-new 51st edition of Kovels' popular annual price guide features 16,000 prices and more than 2,500 photos, larger than ever before, on items in categories most sought-after by collectors. New this edition – 300 marks to help identify and date pottery, porcelain, glass and other collectibles. Terry Kovel will discuss antiques and collectibles topics with accredited media. Photographs are available. Contact pr(at)kovels(dot)com.
About Kovels.com
Kovels.com, created by Terry Kovel and her daughter, Kim Kovel, provides collectors and researchers with up-to-date and accurate information on antiques and collectibles. The company was founded in 1953 by Terry Kovel and her late husband, Ralph. Since then, the Kovels have written more than 100 books and hundreds of articles about antiques, including the best-selling annual Kovels' Antiques & Collectibles Price Guide. Their nationally syndicated antiques and collectibles newspaper column is distributed by King Features Syndicate to many newspapers nationwide. Terry and Ralph starred in television series on PBS, the Discovery Channel, and Home & Garden Television (HGTV). The website, Kovels.com, has been online since 1998. It offers more than a million free prices, and includes a free weekly email called "Kovels Komments," giving readers a bird's-eye view of the market through the latest news, auction reports, a Marks Dictionary, readers' questions and answers and much more.
Contact Information:
Liz Lillis
216.752.2252
Pr(at)kovels(dot)com