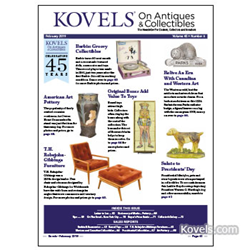 CLEVELAND (PRWEB) January 31, 2019
Barbie dolls and accessories from 1958 to 1973 were auctioned in Chicago and are featured in a sale report in Kovels On Antiques & Collectibles February 2019 newsletter. Mattel's Barbie turns 60 this year and the dolls, costumes and related toys are still popular. Among the items pictured in Kovels' — a Barbie No. 1 doll with a brunette ponytail and original box and accessories that auctioned for $4,600, an early Ken doll with blond flocked hair in the original box that brought $173, as well as a Barbie "Dream House" and sportscar.
Furniture by T.H. Robsjohn-Gibbings, a 1950s design "influencer," was included in a recent Florida auction. His pieces have the wide lines and angular forms that were common in midcentury furnishings. Kovels' February newsletter pictures Robsjohn-Gibbings seating and tables, and even a lamp, along with their prices. Kovels' latest issue contains art pottery, old and newer, that sold in Cincinnati. Find priced examples of Alhambra and Mosaic Tile Co. tiles, an Owens Pottery umbrella stand and a Rookwood paperweight along with some vases by contemporary potters.
Collectors love antique and vintage toys — especially toys with their original boxes. Prices at a New Jersey auction confirmed the added value that original packaging brings. Kovels' February newsletter pictures a number of the toys with boxes that featured colorful graphics and helpful manufacturer information. Also a California auction that specializes in Western art offered collectibles from Canada and the West. Their rustic charm is evident in the pieces pictured in Kovels' latest issue, from an antique moose call and Native American snowshoes to a Calgary Stampede pennant and a Saskatchewan Parks beaver badge.
The Kovels celebrate Presidents' Day with memorabilia from a New Jersey auction that reminds us of the lives and legends of some former presidents. They go "on the road" to New York City to explore the annual Salon Art + Design fair. Kovels' popular illustrated Collector's Gallery answers readers' questions about an Alice in Wonderland cookie jar, an antique coverlet, a Homenick violin and a set of Wedgwood dishes. February's Dictionary of Marks lists American pottery marks with dates. More than 70 antiques and collectibles are listed in February's Buyer's Price Guide.
Kovels On Antiques & Collectibles is available as a print subscription, or as a digital version that is part of the Kovels.com Premium subscription.
Terry Kovel is one of America's foremost authorities on antiques and collectibles. She is the well-known columnist and author of more than 100 books on antiques and collecting. The 2019 edition of Kovels' Antiques & Collectibles Price Guide is available at Kovels.com and local bookstores. This all-new 51st edition of Kovels' popular annual price guide features 16,000 prices and more than 2,500 photos, larger than ever before, on items in categories most sought-after by collectors. New this edition – 300 marks to help identify and date pottery, porcelain, glass and other collectibles. Terry Kovel will discuss antiques and collectibles topics with accredited media. Photographs are available. Contact pr(at)kovels(dot)com.
About Kovels.com
Kovels.com, created by Terry Kovel and her daughter, Kim Kovel, provides collectors and researchers with up-to-date and accurate information on antiques and collectibles. The company was founded in 1953 by Terry Kovel and her late husband, Ralph. Since then, the Kovels have written more than 100 books and hundreds of articles about antiques, including the best-selling annual Kovels' Antiques & Collectibles Price Guide. Their nationally syndicated antiques and collectibles column is distributed by King Features Syndicate to many newspapers nationwide. Terry and Ralph starred in television series on PBS, the Discovery Channel, and the Home & Garden Television (HGTV). The website, Kovels.com, has been online since 1998. It offers more than a million free prices, and includes a free weekly email called "Kovels Komments," giving readers a bird's-eye view of the market through the latest news, auction reports, a Marks Dictionary, readers' questions and answers and much more.
Contact Information:
Liz Lillis
216.752.2252
Pr(at)kovels(dot)com