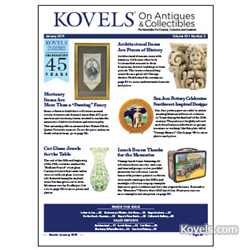 CLEVELAND (PRWEB) December 27, 2018
Architectural elements from some of Chicago's landmark buildings sold recently at auction in Chicago and are featured in a sale report in Kovels On Antiques & Collectibles January 2019 newsletter. The sale was a great opportunity for bidders to own a piece of the city's rich architectural history. Kovels' pictures some big things – a window from an Oak Park home built by Frank Lloyd Wright – some small things – a pair of elevator button plaques from a 1933 World's Fair ride – and some things in between along with their prices.
Victorian mourning items meant to remember the dearly departed were more than a passing fancy at a Pennsylvania auction. A memorial picture made of hair woven into a tomb with a cross, a marble hand-carved tombstone, a metal death mask and other remembrances are pictured in Kovels' January newsletter.
San Jose pottery, made in San Antonio workshops from the 1920s to 1945, auctioned recently in California. See some of the colorful plates and tiles that picture everyday scenes of Mexican life and read about Ethel Wilson, the businesswoman and preservation enthusiast who made it happen in Kovels' latest newsletter.
A Kansas auction offered brilliant cut glass that decorated turn-of-the-century tables and Kovels' latest issue features some jewel-tone pieces with lots of sparkle. Find the top price Dorflinger green cut to clear vase that auctioned for $9,000, along with a blue cut and etched pitcher sold for $1,200, a cranberry cut to clear cruet for $720, and more. And enjoy vintage lunch boxes sold at auction in Cincinnati. Nostalgic collectors snapped up more than 200 boxes that recalled favorite television shows, movies and cartoon characters. Kovels' pictures lunch boxes with the Beatles' Yellow Submarine, Charlie's Angels, Snoopy and other examples with their prices.
Kovels' also tells how to spot reproductions of small vintage toys. They go "on the road" to Houston to explore the museums and antiques. Kovels' popular illustrated Collector's Gallery answers readers' questions about a Barnum & Bailey circus poster, a pair of pirate bookends, a muddler tool and a Queen Louise vase. January's Dictionary of Marks pictures marks used by American cut glass makers. And more than 70 antiques and collectibles are listed in the January 2019 Buyer's Price Guide.
Kovels On Antiques & Collectibles is available as a print subscription, or as a digital version that is part of the Kovels.com Premium subscription.
Terry Kovel is one of America's foremost authorities on antiques and collectibles. She is the well-known columnist and author of more than 100 books on antiques and collecting. The 2019 edition of Kovels' Antiques & Collectibles Price Guide is available at Kovels.com and local bookstores. This all-new 51st edition of Kovels' popular annual price guide features 16,000 prices and more than 2,500 photos, larger than ever before, on items in categories most sought-after by collectors. New this edition – 300 marks to help identify and date pottery, porcelain, glass and other collectibles. Terry Kovel will discuss antiques and collectibles topics with accredited media. Photographs are available. Contact pr(at)kovels(dot)com.
About Kovels.com
Kovels.com, created by Terry Kovel and her daughter, Kim Kovel, provides collectors and researchers with up-to-date and accurate information on antiques and collectibles. The company was founded in 1953 by Terry Kovel and her late husband, Ralph. Since then, the Kovels have written some of America's most popular books and articles about antiques, including the best-selling annual Kovels' Antiques & Collectibles Price Guide. The website, Kovels.com, online since 1998, offers more than a million free prices, and includes a free weekly email, "Kovels Komments." It gives readers a bird's-eye view of the market through the latest news, auction reports, a Marks Dictionary, readers' questions and answers and much more.
Contact Information:
Liz Lillis
216.752.2252
Pr(at)kovels(dot)com