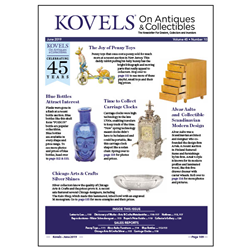 CLEVELAND (PRWEB) May 31, 2019
A collection of colorful toys that once cost only a single penny auctioned for big prices in New Jersey and they are featured in a sale report in Kovels On Antiques & Collectibles June 2019 newsletter. Called penny toys by collectors, most are small, inexpensive tin toys made in Germany in the late 1800s and early 1900s. Find a "walking" rabbit penny toy that went for $6,000 (that's 600,000 pennies!), a clown and pig push toy that brought $1,680, and others with moving parts that sold for more than $500.
Some of the best and most unique high-quality silver in the Arts and Crafts style was made by Chicago metalsmiths in the early 1900s and many pieces auctioned recently in Chicago. Kovels' pictures a sampling of those items, including a pitcher with an applied monogram and undertray that went for $1,750, a sauce server with an ebony handle for $325, a sugar cube rack with an arched handle for $218, and more. The accompanying June Dictionary of Marks lists notable Chicago metalsmiths and pictures the marks they used.
Alvar Aalto was a leader in 20th-century Scandinavian modern design. An auction in Finland included many items designed by Aalto and others who worked at Artek, the design firm he co-founded in 1935. Kovels' June issue pictures a pair of Aalto-designed lamps that sold for more than $18,000, as well as tables, a chair, a chest and a room divider screen.
Bottles of all kinds sold at a Connecticut auction and the Kovels focused on cobalt blue ones. A top seller was a blue c.1820 historical flask with an eagle on one side and a masonic arch and emblems on the other side that sold for $71,000. Others range from a figural Bunker Hill monument cologne bottle to a whimsey cup made from an ink bottle mold. And they are all blue – pictured with prices in Kovels' June newsletter. And nearly 30 carriage clocks that were high technology in the late 1700s were auctioned recently in Massachusetts. They were portable, spring-driven and handy for 18th and 19th century travel before the invention of the wristwatch. Kovels' pictures decorative examples – some with a chiming alarm – that sold from $700 to $3,000.
Kovels' June newsletter features an article about Viktor Schreckengost's famous Jazz Bowl and reproductions. The popular illustrated Collector's Gallery answers readers' questions about C.C. Thompson dinnerware, a William L. Gilbert clock, a Hull Magnolia vase, and a "found" German dish. And more than 70 antiques and collectibles are listed in the June Buyer's Price Guide.
Kovels On Antiques & Collectibles is available as a print subscription, or as a digital version that is part of the Kovels.com Premium subscription.
Terry Kovel is one of America's foremost authorities on antiques and collectibles. She is the well-known columnist and author of more than 100 books on antiques and collecting. The 2019 edition of Kovels' Antiques & Collectibles Price Guide is available at Kovels.com and local bookstores. This all-new 51st edition of Kovels' popular annual price guide features 16,000 prices and more than 2,500 photos, larger than ever before, on items in categories most sought-after by collectors. New this edition – 300 marks to help identify and date pottery, porcelain, glass and other collectibles. Terry Kovel will discuss antiques and collectibles topics with accredited media. Photographs are available. Contact pr(at)kovels(dot)com.
About Kovels.com
Kovels.com, created by Terry Kovel and her daughter, Kim Kovel, provides collectors and researchers with up-to-date and accurate information on antiques and collectibles. The company was founded in 1953 by Terry Kovel and her late husband, Ralph. Since then, the Kovels have written more than 100 books and hundreds of articles about antiques, including the best-selling annual Kovels' Antiques & Collectibles Price Guide. Their nationally syndicated antiques and collectibles newspaper column is distributed by King Features Syndicate to many newspapers nationwide. Terry and Ralph starred in television series on PBS, the Discovery Channel, and Home & Garden Television (HGTV). The website, Kovels.com, has been online since 1998. It offers more than a million free prices, and includes a free weekly email called "Kovels Komments," giving readers a bird's-eye view of the market through the latest news, auction reports, a Marks Dictionary, readers' questions and answers and much more.
Contact Information:
Liz Lillis
216.752.2252
Pr(at)kovels(dot)com