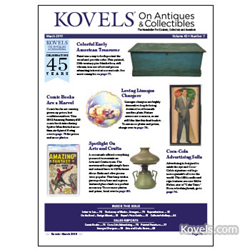 CLEVELAND (PRWEB) March 06, 2019
Comic books auctioned in Dallas are featured in a sale report in Kovels On Antiques & Collectibles March 2019 newsletter. Comic book collecting is becoming more popular, especially with recent movies featuring Marvel and DC characters. Among the comic books pictured in Kovels' – Amazing Fantasy No. 15, the first appearance of Spider-Man, that sold for $144,000, and The Fantastic Four No. 5, by the late iconic comic book artists Jack Kirby and Stan Lee, that brought more than $16,000.
The signature red Coca-Cola logo is recognizable all over the world and its advertising has become part of 20th-century Americana. Kovels' March newsletter pictures Coca-Cola advertising collectibles that sold at a winter auction in Pennsylvania, including signs, trays – even a 1940s cooler and a 1950s thermometer – along with their prices. And Kovels' latest issue contains 19th and early 20th century American painted furniture that sold in Massachusetts. Practical furniture designed for everyday use, pieces featured include a slat-back cupboard, dry sink, blanket box and more, each with old paint and a price under $1,500.
Another Massachusetts auction included everything needed to re-create a typical Arts and Crafts style room. Starting with a Stickley chair, an oak table and a Charles Rohlfs bench, the Kovels chose a hammered copper humidor, Roycroft bookends, green organic Grueby vase and other details to finish the look. And decorative porcelain plates called chargers, made in factories around Limoges, France, sold at auction in Kansas. Pictures and prices of examples can be found in Kovels' March issue along with the coordinated Dictionary of Marks illustrating the markings that signify their makers, decorators and retailers.
The Kovels go "on the road" to Miami to explore design trends at Design Miami. Kovels' popular illustrated Collector's Gallery answers readers' questions about Royal Crown Derby porcelain, an M&M Freedom Rider candy dispenser, "piano babies" figurines and silver oyster forks. And more than 70 antiques and collectibles are listed in the March Buyer's Price Guide.
Kovels On Antiques & Collectibles is available as a print subscription, or as a digital version that is part of the Kovels.com Premium subscription.
Terry Kovel is one of America's foremost authorities on antiques and collectibles. She is the well-known columnist and author of more than 100 books on antiques and collecting. The 2019 edition of Kovels' Antiques & Collectibles Price Guide is available at Kovels.com and local bookstores. This all-new 51st edition of Kovels' popular annual price guide features 16,000 prices and more than 2,500 photos, larger than ever before, on items in categories most sought-after by collectors. New this edition – 300 marks to help identify and date pottery, porcelain, glass and other collectibles. Terry Kovel will discuss antiques and collectibles topics with accredited media. Photographs are available. Contact pr(at)kovels(dot)com.
About Kovels.com
Kovels.com, created by Terry Kovel and her daughter, Kim Kovel, provides collectors and researchers with up-to-date and accurate information on antiques and collectibles. The company was founded in 1953 by Terry Kovel and her late husband, Ralph. Since then, the Kovels have written more than 100 books and hundreds of articles about antiques, including the best-selling annual Kovels' Antiques & Collectibles Price Guide. Their nationally syndicated antiques and collectibles column is distributed by King Features Syndicate to many newspapers nationwide. Terry and Ralph starred in television series on PBS, the Discovery Channel, and the Home & Garden Television (HGTV). The website, Kovels.com, has been online since 1998. It offers more than a million free prices, and includes a free weekly email called "Kovels Komments," giving readers a bird's-eye view of the market through the latest news, auction reports, a Marks Dictionary, readers' questions and answers and much more.
Contact Information:
Liz Lillis
216.752.2252
Pr(at)kovels(dot)com