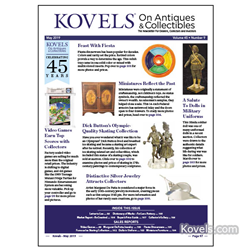 CLEVELAND (PRWEB) May 02, 2019
Retro video games were auctioned in Dallas and are featured in a sale report in Kovels On Antiques & Collectibles May 2019 newsletter. Games from the 1980s and 1990s are now hot collectibles, especially in "right off the shelf" condition. Find favorite titles such as Teenage Mutant Ninja Turtles, The Legend of Zelda, Tetris and others that sold from $1,500 to $9,000. Artist Margaret De Patta is credited with starting the American studio jewelry movement on the West Coast. Her work is rarely seen, but a recent California auction featured some of her unique pieces. Kovels' May newsletter pictures pins, cufflinks, a ring and a belt buckle by De Patta along with their hefty selling prices.
Ice skating art and memorabilia from the collection of former World and Olympic figure skating champion and skating analyst Dick Button was auctioned in North Carolina. Button's collection ranged from paintings, prints and posters to antiques, advertising and curiosities that depict ice skating as both sport and pastime. Kovels' pictures a sampling of items, including an early-20th-century hooked rug that sold for $8,400 and the Olympic torch he carried in the 2002 Salt Lake City Winter Games that brought $2,600.
A California doll auction offered a collection made in the 1930s to commemorate World War I. The dolls were dressed in detailed wool, flannel and khaki military uniforms from that era and carried accessories like rifles, ammunition pouches, backpacks, canteens and cooking pots. Kovels' pictures examples of dolls in uniforms representing many countries in the May issue.
A collection of miniature furniture was auctioned in South Carolina. Many were salesman samples that sold for more than most regular-sized pieces today. Find meticulous miniature chairs, chests, desks and even a tester bed in Kovels' latest issue. And Fiesta dinnerware still enjoys a large and ever-growing following. Kovels' pictures vintage Fiesta items in some of the early colors, including a disk pitcher, coffeepot, mustard pot and bulb candleholders, that auctioned recently in Maryland.
Kovels' May newsletter features a market report on repurposed flea market finds. The Dictionary of Marks pictures West German "fat lava" pottery pieces and their marks. The popular illustrated Collector's Gallery answers readers' questions about a New Era Potato Chips tin, a bentwood box, an English pottery pitcher and washbowl set, and a Turkish porcelain vase. And more than 70 antiques and collectibles are listed in the May Buyer's Price Guide.
Kovels On Antiques & Collectibles is available as a print subscription, or as a digital version that is part of the Kovels.com Premium subscription.
Terry Kovel is one of America's foremost authorities on antiques and collectibles. She is the well-known columnist and author of more than 100 books on antiques and collecting. The 2019 edition of Kovels' Antiques & Collectibles Price Guide is available at Kovels.com and local bookstores. This all-new 51st edition of Kovels' popular annual price guide features 16,000 prices and more than 2,500 photos, larger than ever before, on items in categories most sought-after by collectors. New this edition – 300 marks to help identify and date pottery, porcelain, glass and other collectibles. Terry Kovel will discuss antiques and collectibles topics with accredited media. Photographs are available. Contact pr(at)kovels(dot)com.
About Kovels.com
Kovels.com, created by Terry Kovel and her daughter, Kim Kovel, provides collectors and researchers with up-to-date and accurate information on antiques and collectibles. The company was founded in 1953 by Terry Kovel and her late husband, Ralph. Since then, the Kovels have written more than 100 books and hundreds of articles about antiques, including the best-selling annual Kovels' Antiques & Collectibles Price Guide. Their nationally syndicated antiques and collectibles column is distributed by King Features Syndicate to many newspapers nationwide. Terry and Ralph starred in television series on PBS, the Discovery Channel, and the Home & Garden Television (HGTV). The website, Kovels.com, has been online since 1998. It offers more than a million free prices, and includes a free weekly email called "Kovels Komments," giving readers a bird's-eye view of the market through the latest news, auction reports, a Marks Dictionary, readers' questions and answers and much more.
Contact Information:
Liz Lillis
216.752.2252
Pr(at)kovels(dot)com