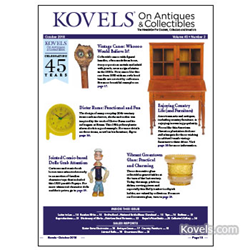 CLEVELAND (PRWEB) September 28, 2018
Antique canes auctioned in Massachusetts are featured in a sale report in Kovels On Antiques & Collectibles October 2018 newsletter. Prices ranged from $360 to more than $10,000 for canes with figural handles made of bone, ivory, precious metals, sometimes inlaid with jewels. Kovels' pictures a Japanese character octopus (silver), a draped lady's head (porcelain), a clenched fist (ivory), a Civil War battle memorial (hickory) and others, along with their prices. Cartoon and comic book character toys from the 1930s and newer were auctioned in New York. Kovels' October newsletter pictures some jointed comic character dolls from the sale, mostly wood. Find Popeye, Wimpy, Eugene the Jeep, Betty Boop and others that sold in the mid-hundreds of dollars.
The design of many everyday 20th-century products was inspired by the work of the German designer Dieter Rams and his colleagues at Braun. His work is now wanted by a new group of collectors. Small appliances with clean lines designed by Rams were among the items sold at a recent Chicago auction. Kovels' October issue pictures a clock, radio, phonograph and even an electric shaver, along with some Rams-designed furniture. Many pieces of American "country" furniture, from tables and chairs to desks and work tables, were auctioned in Ohio with other Americana arts and antiques that are enjoying increased popularity. Kovels' latest issue pictures a plantation desk, step back and jelly cupboards, a dough box, chairs and chests that were all well-made and good values. And the Indiana Tumbler & Goblet Works of Greentown, Indiana, was known for its vibrantly colored tableware and serving pieces that graced tables at the turn of the last century. Called simply "Greentown glass" by collectors, a recent Virginia auction featured about 200 lots. Kovels' pictures selected examples of Greentown pieces and their prices.
Terry Kovel was "on the road," speaking at the Federation of Historical Bottle Collectors' annual convention and expo held in Cleveland. She stayed for the auction, speeches and other convention activities and met old "collector" friends. The popular illustrated Collector's Gallery answers readers' questions about a silver tankard, a Willets Belleek vase, a carnival glass bowl and an Imari-pattern tea set. October's Dictionary of Marks dates marks found on modern stainless steel flatware. And more than 70 antiques and collectibles are listed in October's Buyer's Price Guide.
Kovels On Antiques & Collectibles is available as a print subscription, or as a digital version that is part of the Kovels.com Premium subscription.
Terry Kovel is America's foremost authority on antiques and collectibles. She is the well-known columnist and author of more than 100 books on antiques and collecting. The 2019 edition of Kovels' Antiques & Collectibles Price Guide is now available nationwide and at Kovels.com. This all-new 51st edition of Kovels' popular annual price guide features 16,000 prices and more than 2,500 photos, larger than ever before, on items in categories most sought-after by collectors. New this edition – 300 marks to help identify pottery, porcelain, glass and other collectibles. Terry Kovel will discuss antiques and collectibles topics with accredited media. Photographs are available. Contact pr(at)kovels(dot)com.
About Kovels.com
Kovels.com, created by Terry Kovel and her daughter, Kim Kovel, provides collectors and researchers with up-to-date and accurate information on antiques and collectibles. The company was founded in 1953 by Terry Kovel and her late husband, Ralph. Since then, the Kovels have written some of America's most popular books and articles about antiques, including the best-selling annual Kovels' Antiques & Collectibles Price Guide. The website, Kovels.com, online since 1998, offers more than a million free prices, and includes a free weekly email, "Kovels Komments." It gives readers a bird's-eye view of the market through the latest news, auction reports, a Marks Dictionary, readers' questions and answers and much more.
Contact Information:
Liz Lillis
216.752.2252
Pr(at)kovels(dot)com