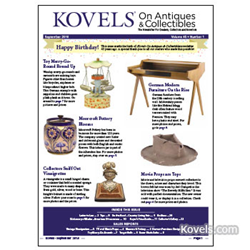 CLEVELAND, Ohio (PRWEB) August 31, 2018
Toy merry-go-rounds and carousels auctioned in New Jersey are featured in a sale report in Kovels On Antiques & Collectibles September 2018 newsletter. Most were tin and made in Germany; all were whimsical and enticing. Kovels pictures merry-go-rounds with clowns, boats and zeppelins as well as horses that sold under $500. Antique vinaigrettes, small containers meant to hold a scented sponge, were auctioned in Pennsylvania. Prices ranged from under $300 to over $9,000 for 19th-century vinaigrettes made of gold, silver, wood or bone. Figural examples such as a knight's helmet, monkey's head, lady bug, leaning tower and more are pictured in Kovels' September newsletter.
A collection of Moorcroft pottery was auctioned in Connecticut. Moorcroft has been making pottery in England for more than 120 years. Kovels' September issue includes pictures and prices of vases, bowls, jars and urns decorated with flowers and the company's signature glazes that sold from $150 to $5,500. Props from movies and television shows connect collectors to the actors, characters and shows that they loved. Kovels' September issue includes pictures and prices of a hat from "The Beverly Hillbillies," a blaster from "Star Wars, The Return of the Jedi," a helmet from "Ben Hur," and other objects from memorable productions.
Modern furniture made by German designers is becoming popular with collectors. Kovels' latest newsletter features pricey examples of chairs and tables designed by Egon Eiermann, Berthold Müller, Eugen Schmidt and Helmut Magg that sold at auction in Germany.
Kovels also reports on two unusual collections, one of colorful glass target balls that were once filled with feathers and another of razor blade "banks" that were once used to dispose of used razor blades. They go "on the road" to Columbus, Ohio, to report on the Country Living Fair. Kovels' popular illustrated Collector's Gallery answers readers' questions about a Coca-Cola pocket mirror, a silver-plated butter dish, a Roseville vase and a mystery tool. September's Dictionary of Marks dates marks found on Steuben glass. And more than 70 antiques and collectibles are listed in September's Buyer's Price Guide.
Kovels On Antiques & Collectibles is available as a print subscription, or as a digital version that is part of the Kovels.com Premium subscription.
Terry Kovel is America's foremost authority on antiques and collectibles. She is the well-known columnist and author of more than 100 books on antiques and collecting. The 2018 / 50th anniversary edition of Kovels' Antiques & Collectibles Price Guide is currently available at Kovels.com and local bookstores. The 2019 edition of Kovels' Antiques & Collectibles Price Guide will be published very soon. Terry Kovel will discuss antiques and collectibles topics with accredited media. Photographs are available. Contact pr(at)kovels(dot)com.
About Kovels.com
Kovels.com, created by Terry Kovel and her daughter, Kim Kovel, provides collectors and researchers with up-to-date and accurate information on antiques and collectibles. The company was founded in 1953 by Terry Kovel and her late husband, Ralph. Since then, the Kovels have written some of America's most popular books and articles about antiques, including the best-selling annual Kovels' Antiques & Collectibles Price Guide. The website, Kovels.com, online since 1998, offers more than a million free prices, and includes a free weekly email, "Kovels Komments." It gives readers a bird's-eye view of the market through the latest news, auction reports, a Marks Dictionary, readers' questions and answers and much more.
Contact Information:
Liz Lillis
216.752.2252
Pr(at)kovels(dot)com