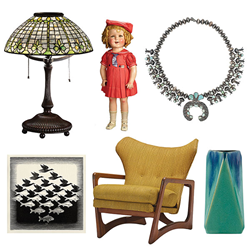 CLEVELAND (PRWEB) December 12, 2019
Christmas is a time when "wishes come true" and in honor of that sentiment, the staff at Kovels.com would like to share its own holiday wish list. The guidelines were simple: What would they want as a gift if money was no object? Staff members used Kovels' Antiques and Collectibles Price Guide 2020 as their own "wish book." The all-new 52nd edition features 16,000 prices, 2,500 photographs, 500 factory marks to identify and date antiques, as well as a special new section – "Collecting Trends: Iconic Designers of Twentieth-Century Furniture." Their comments and the selling prices for their choices are included for reading pleasure! Grab a cup of hot chocolate, a Kovels' price guide, and start dreaming.
Terry Kovel:
"Many years ago, I saw a Martin Escher (1898-1972) print of birds and fish that seemed to change on the page. I was fascinated at the whole idea of a tessellation picture that kept changing perspective. When I started teaching math, I saw more prints, often called "impossible drawings," and I searched for an original print. But the $100 price was too much for my budget. The prints got more popular and the prices got higher. The Escher print in the Kovels' Antiques and Collectibles Price Guide 2020 is the birds and fish. It is now $37,500 so, once again, I didn't buy it. It's just one of the things I have always wanted and didn't buy that got more costly each year, even though we always say, If you like it, buy it." Price: $37,500
Kim Kovel:
"My choice is the 1930 Muncie Rombic vase, matte blue over green glaze. It would look perfect with flowers in my breakfast room. I like the geometric shape and that it is from Muncie, Indiana, where my uncle and cousins lived." Price: $420
Gay, the "mother of Kovels' annual price guide":
"I would love a Shirley Temple doll. I always wanted one as a child, but they were too expensive, so I got a substitute doll at Christmas." Price: $3,335
Susan, editor, Kovels On Antiques & Collectibles newsletter:
"I love the color blue and ever since reading our stories on bottle collecting, I've been obsessed with antique and vintage blue bottles. I love this blue flask from 1848-1855." Price: $4,800
Janet, Kovels' graphic designer:
"A paperweight, glass with flower bouquets by Ysart. I love colored glass and have always been fascinated by glass paperweights, their intricate detail, and the level of skill involved in the making of them." Price: $448
Cherrie, copy editor:
"I've always liked pie safes because of the punched-tin panels. I can think of lots of uses for them today for items in the kitchen, bathroom or bedroom." Price: $4,388
Liz, associate editor:
"An Adrian Pearsall Lounge Chair caught my eye. It fuses sleek anatomical design with comfort. I would give it to my daughter, who is putting together an apartment. It is a great, comfortable statement-y piece." Price: $1,750
Beverly, editorial contributor:
"I picked a Squash blossom necklace. I love to wear turquoise jewelry." Price: $5,843
Mozella, editorial contributor:
"A Ladybug pendant with rubies and pearls is my selection. I can use all the luck I can get!" Price: $4,375
Renee, editorial contributor:
"A Tiffany lamp. I have an antique table that belonged to my grandmother. This would look great on it." Price: $14,760
Jacquie, accounting:
"I loved the Creamware Coffee Pot, c.1790, from England. It has a beautiful molded spout and acorn knob. It is an elegant way to serve coffee – even tea! – and impress my guests." Price: $1,476
Hamsy, Kovels' marketing expert:
"A Danish Modern chair designed by Finn Juhl (1912-1989) caught my eye. I love the clean modern design so much and the color of the wood. I bought replicas, similar designs, for my dining table chairs." Price: $5000
And what would make a better gift for a collector or would-be collector than the book itself – Kovels' Antiques & Collectibles Price Guide 2020! Available at local bookstores and Kovels.com.
Terry Kovel is America's foremost authority on antiques and collectibles. She is the well-known columnist and author of more than 100 books on antiques and collecting. Kovels' Antiques & Collectibles Price Guide 2020 is now available at Kovels.com and local bookstores. This all-new 52nd edition of Kovels' popular annual price guide features 16,000 prices, 500 marks, and more than 2,500 photos, larger than ever before, of items in 700+ categories most sought-after by collectors. Terry Kovel will discuss antiques and collectibles topics with accredited media. Photographs are available. Contact pr(at)kovels(dot)com.
About Kovels.com
Kovels.com, created by Terry Kovel and her daughter, Kim Kovel, provides collectors and researchers with up-to-date and accurate information on antiques and collectibles. The company was founded in 1953 by Terry Kovel and her late husband, Ralph. Since then, the Kovels have written some of America's most popular books and articles about antiques, including the best-selling annual Kovels' Antiques & Collectibles Price Guide. The website, Kovels.com, online since 1998, offers readers more than a million prices, auction reports, buyers' and identification guides, and a marks dictionary. It also includes a free weekly email, Kovels Komments, that gives readers a bird's-eye view of the market through the latest news, readers' questions and answers, and much more.
Contact Information:
Liz Lillis
216.752.2252
Pr(at)kovels(dot)com