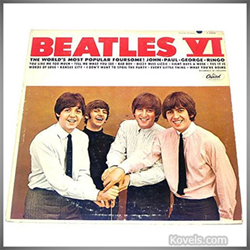 CLEVELAND (PRWEB) October 19, 2018
The antiques experts at Kovels suggest checking out the old record collection that's probably gathering dust in a closet or attic. While they might not be worth as much money as one would hope, it's a good time to consider selling or buying – either at a used record shop or online. Here are the Top 7 tips from the Kovels to get started:
1. Forget about the easy listening, swing era big bands, opera, classical and show tunes records. Lawrence Welk, too. Sellers may each have a different focus, but most buyers look for jazz, pop, psychedelic, rock, new wave, blues and early country, mostly from the 1960s and later. Hip hop full lengths are harder to find than singles, also a good find. Check out record bins at thrift stores but what you see there is probably not what sells at a record store or online.
2. Understand grading. The condition of the record influences value. Most record collectors use the strict "Goldmine Standard" to grade condition. A reasonable universal grading system uses these guidelines:
(M) Mint – Perfect in every way. Record has never been played and is usually still sealed.
(NM) Near Mint – Opened; the record looks glossy and as if it has only been played a few times. There are no marks and the whole record package is complete.
(E) Excellent – Opened; Very light marks or small signs of use.
(VG+) Very Good Plus – Opened; has been played and might be a bit scuffed but has nothing major that affects sound. Cover shows some wear.
(VG) Very Good – Opened; has signs of use. You can still listen to it and enjoy it but is visually and audibly used.
(G) Good – Actually closer to "not good." Scuffs, scratches, slight warp, a skip here and there but listenable. A seller or buyer may not be interested or interested only at a bargain price.
(P) Poor – Warped, scratches, cracked. Listening is difficult – it skips, repeats.
3. Examine the record. Look at it from various angles under a good light. Is it glossy? Warped? Are there marks on the vinyl? Look for needle wear, scratches, bubbles or other defects caused by use or heat. Look at the label – is it scratched or marked? Make notes about faults for your description.
4. Spin the record on a turntable and check again for warping. Try to listen to it from start to finish or at least a few tracks. How does it sound? Make notes.
5. Collectors and sellers often grade the sleeve and the record separately. Look at the sleeve for damage, wear, rips, creases and dirt. A clean, damp cotton cloth and a clean soft white eraser may remove some grime and marks.
6. Do you have "extras" that might have come with the record – liner notes, lyric sheets, posters, photos? They are coveted by collectors. What is their condition?
7. The better the shape vinyl records and their packaging are in, the more desirable they are. So . . .
a. Store them vertically – don't lay them flat; it causes warping.
b. Store them in a cool, dry place and avoid temperature extremes and humidity.
c. Keep them in their sleeves.
d. Use a storage container that can handle their weight.
The record album pictured here is "Beatles VI," Capitol Records, 1965. It's not "graded" but it plays well. It has some shallow scratches and the sleeve has rub marks and some tape. It sells for $40 online.
Terry Kovel is America's foremost authority on antiques and collectibles. She is the well-known columnist and author of more than 100 books on antiques and collecting. The 2019 edition of Kovels' Antiques & Collectibles Price Guide is now available at Kovels.com and local bookstores. This all-new 51st edition of Kovels' popular annual price guide features 16,000 prices and more than 2,500 photos, larger than ever before, on items in categories most sought-after by collectors. New this edition – 300 marks to help identify pottery, porcelain, glass and other collectibles. Terry Kovel will discuss antiques and collectibles topics with accredited media. Photographs are available. Contact pr(at)kovels(dot)com.
About Kovels.com
Kovels.com, created by Terry Kovel and her daughter, Kim Kovel, provides collectors and researchers with up-to-date and accurate information on antiques and collectibles. The company was founded in 1953 by Terry Kovel and her late husband, Ralph. Since then, the Kovels have written some of America's most popular books and articles about antiques, including the best-selling annual Kovels' Antiques & Collectibles Price Guide. The website, Kovels.com, online since 1998, offers more than a million free prices, and includes a free weekly email, "Kovels Komments." It gives readers a bird's-eye view of the market through the latest news, auction reports, a Marks Dictionary, readers' questions and answers and much more.
Contact Information:
Liz Lillis
216.752.2252
Pr(at)kovels(dot)com