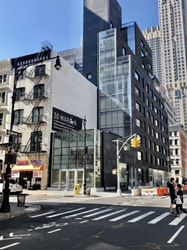 "The idea that retail is dead in NYC is nonsense."
NEW YORK (PRWEB) January 08, 2021
Illustrating its bullish outlook on the recovery of New York City, KPG Funds ("KPG") has acquired a fully leased investment grade retail condo at 102 Chambers St.
The property is 100% leased to Time Warner Cable New York City LLC (Spectrum), a wholly owned subsidiary of Charter Communications Inc.
The condominium unit is entirely on the ground floor. The tenant recently signed a 10-year lease, with an option to renew.
Located on the high traffic corner of Church and Warren Streets, the asset is in a prime location, adjacent to the Chambers Street A, C and E train station and steps away from both City Hall and the World Trade Center. Its zip code, 10007, is the fifth wealthiest in the United States.
The condo is the prominent retail portion of a boutique, ground-up new development at 30 Warren, which features 23 design-forward apartments and a wide array of amenities, including a fitness and wellness studio, children's playroom, private storage and bicycle storage.
The building was designed by Post Office Architects.
The acquisition represents KPG's faith in the New York City market. "The pandemic created a fight or flight response in NYC. While most chose flight; we chose fight," said KPG co-founder and CIO Rod Kritsberg. "By never wavering in our belief in the resilience of the greatest city in the world, we are being rewarded with the ability to acquire a prime corner, high-design, KPG style asset with credit tenancy and long- term cash flow at an incredible yield."
KPG expects to do many deals in 2021 as it is fully confident that the city will bounce back strong—and soon—from the losses it suffered during the Coronavirus pandemic.
Spectrum's lease represents a new chapter for NYC retail, said Greg Kraut, KPG Funds co-founder and CEO. "Having the opportunity to acquire a long-term credit tenant lease at a discount in a burgeoning area was too good for us to pass up. The idea that retail is dead in NYC is nonsense. Retail is just being redefined in 2021 by tenants who provide services that people need; like Spectrum, the largest residential internet provider in NYC."
-###-