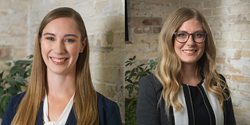 They are both talented lawyers who will be a great addition to our team.
GRAND RAPIDS, Mich. (PRWEB) October 26, 2020
Kraayeveld Law is proud to announce two new attorneys have joined our Michigan family law firm. Attorneys Hillary E. Krill and Kelsey A. Knudsen will help the firm expand its footprint in Grand Rapids and deepen the family law services we provide to clients throughout the state.
Hillary E. Krill is a University of Notre Dame Law School graduate who comes to the firm from the Michigan Court of Appeals where she worked as a research attorney. Hillary joined Kraayeveld Law to serve the community by advocating for families and helping people navigate the legal system. A Grand Rapids native, Hillary worked for the U.S. District Court for the Western District of Michigan during law school. She also participated in the Notre Dame Community Development Clinic, which offers certain legal services to nonprofit organizations and small businesses.
Kelsey A. Knudsen is a Michigan native who is using her skills and experience to assist families in a full range of family law issues. A Michigan State University Law School graduate, Kelsey also joins Kraayeveld Law following a stint as a research attorney at the Michigan Court of Appeals. Kelsey sharpened her legal skills working for a pair of Michigan firms during her time in law school. She also garnered Michigan State's Jurisprudence Achievement Awards for earning the highest grade in her Advocacy and Research, Writing & Analysis classes.
"We are excited to welcome Kelsey and Hillary to the firm," said James Kraayeveld, founding attorney. "They are both talented lawyers who will be a great addition to our team."
Hillary and Kelsey add to Kraayeveld Law's existing roster of attorneys who boast decades of combined experience in family law matters and a proven track record of securing favorable outcomes and results for families throughout Michigan.
About Kraayeveld Law
For more than 30 years, Kraayeveld Law has represented residents of Michigan in family-related legal issues, including divorce, child custody, and visitation. Founded by Grand Rapids family law attorney James Kraayeveld, the firm provides full service and personal legal representation to clients facing complex family disputes.