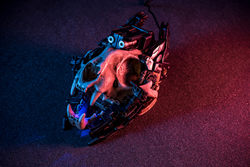 Kranio challenges the trend of machined perfection with imperfect, hand-made deisgn.
HONG KONG (PRWEB) March 31, 2020
Alan Wong, an award-winning industrial designer, today announces that Kranio, a hand-painted Bluetooth hi-fi speaker for collectors is funded on crowdfunding platform Kickstarter and received the platform's Project We Love badge.
Kranio is a Bluetooth hi-fi speaker with an ABS casing that is a blend of lynx-inspired skull with cybernetic implants. The speaker is meticulously hand-painted with detailing and weathering effects to give it a rugged, decay look. Kranio is designed with an acoustic transmission line that preserves the integrity of the sound waveform and produces less than 0.5% distortion. It uses Bluetooth 5.0 for great sound quality and had an operating range up to 15 meters (50 feet).
Alan has won multiple Red Dot and Red Star Design Awards. He is frustrated by the lack of soul in modern product design. Modern wireless speakers have clean, minimalist industrial design. Kranio challenges this trend of machined perfection with imperfect, hand-made design that fuses organic and mechanical elements.
The hand-painted details of Kranio is so realistic that many people have expressed outrage and curiosity at the use of a lynx skull to make a Bluetooth speaker on the brand's Facebook page. Although a lynx skull was as the starting point and main inspiration for Kranio's design, Alan incorporated many other elements, most notably the fangs of a saber-toothed tiger. He also has other concepts such as prehistoric skulls of a T-rex and saber-toothed tiger. With the success and positive feedback that Kranio has garnered so far, he plans to choose one of these concepts as the next project.
Kranio X is a special Kickstarter edition in collaboration of several SuicideGirls models. This bundle is available only during the Kickstarter campaign and comes in red with special finishing, a limited edition Kranio X SuicideGirl poster, and other Kranio swag.
Kranio is available at a special price of $269 on Kickstarter. Delivery is expected in May 2020.
Features:

Unique design that blends organic with mechanical
Hand-painted with exquisite details
Acoustic transmission line speaker to preserve the integrity of the sound waveform • Limited edition with an authenticity card and serial number for each Kranio
Bluetooth 5.0 speaker with a range up to 15 meters (50 feet)
Power rating: 10 W
Signal-to-noise ratio: ≥92 dB
Sensitivity 400 mV
Distortion: 0.5%
Dimension: 240 x 160 x 153 mm
Net weight: 2000 g
About Alan Wong
An award-winning industrial design, Alan has years of experience designing figurines for Marvel, DC and other pop culture products. Alan runs his design studio to create designs and products for clients such as Philips, Tencent, Ocean Park, and B.Duck.