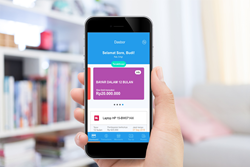 We are humbled to have such a high-quality set of investors support our vision of enabling faster, frictionless e-commerce payments and providing safe, low-cost financing in a transparent and efficient manner.
Singapore and Jakarta (PRWEB) July 25, 2018
Jakarta based FinAccel has raised a USD30 million Series B equity investment round led by Square Peg Capital, with participation from new investors MDI Ventures and Atami Capital, and from existing investors Jungle Ventures, Openspace Ventures, GMO Venture Partners, Alpha JWC Ventures and 500 Startups.
FinAccel's core product, Kredivo, is a digital credit card and point-of-sale transaction engine that enables consumers to quickly and easily "buy now and pay later" on Indonesia's leading e-commerce sites. Kredivo solves major problems for both consumers and e-commerce merchants. For merchants, it increases order value and eases the friction in online transactions that can lead up to 80% cart abandonment rates. For consumers, it enables a fast and safe online checkout while offering flexible payment terms, such as interest-free 30 days or low-cost installment plans. Kredivo credit scores and approves consumers in real-time using its proprietary credit decisioning platform.
In just over two years since launch, Kredivo has become the most widely adopted alternative checkout and digital credit payment method across Indonesian e-commerce merchants. No other company is live on nearly all of the top ten merchants, including Tokopedia, Shopee, Bukalapak and Lazada, and more than 200 overall. Kredivo has credit scored nearly two million Indonesian consumers and helped e- commerce merchants increase sales and customer retention significantly. Kredivo's consumers are incredibly valuable and loyal, with 80% of its transactions in any month coming from repeat customers.
Tushar Roy, Partner at Square Peg Capital said, "Kredivo is an institutional-grade business in all aspects: it has automated some of the most complex elements of lending, it is trusted by the best merchants in Indonesia, its risk metrics are bank-grade, and it is already attracting institutional debt. More importantly, it is helmed by high integrity, experienced founders, who are motivated to solve massive pain points for Indonesian merchants and consumers, and in doing so drive the growth of the overall economy. We are very excited to support the team's vision of enabling better financial services for Indonesian and SEA millennials."
Nicko Widjaja, CEO of MDI Ventures, a part of Telkom Indonesia, added, "Kredivo is the first lending-tech company in our portfolio. It is the leader in Indonesia, with the most advanced credit scoring technology that we've seen so far in this market. We also like that Kredivo offers fair, transparent rates without any hidden fees or gimmicks. With our participation, we hope to push more into under-served market segments while leveraging Kredivo's key strengths around technology automation and fair pricing."
Akshay Garg, CEO of FinAccel said, "We are humbled to have such a high-quality set of investors support our vision of enabling faster, frictionless e-commerce payments and providing safe, low-cost financing in a transparent and efficient manner. While SEA is one of the largest and most dynamic economies in the world today, financial services in this region lag behind their peer group. We intend to use the new funds to build out new product lines, expand geographically and hire more talent with the aim of becoming the preferred digital credit card for SEA millennials."
About FinAccel
FinAccel is a financial technology company that leverages deep data analytics across users' digital footprint to automate credit risk scoring and access to credit in Southeast Asia, the 7th largest economy in the world. FinAccel's flagship product, Kredivo Buy now, Pay later, enables e-commerce buyers to apply and qualify for instant credit and pay back over time. Merchants using Kredivo benefit from providing point-of-sale financing using a 2-click checkout to all eligible buyers. FinAccel is backed by leading investors and regulated by OJK in Indonesia. To know more about FinAccel and Kredivo, visit http://www.finaccel.co and http://www.kredivo.com.