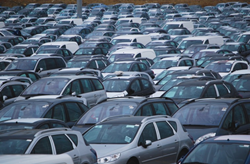 DULUTH, Minn. (PRWEB) February 18, 2020
The Krenzen Auto Group is a dealership in Duluth, Minnesota that caters to a wide audience of car buyers. The Krenzen Auto Group carries new Honda, Nissan, and Lincoln vehicles to cover a few different markets all at once. At Krenzen, another major focus is pre-owned cars and trucks. With almost 200 pre-owned vehicles available, the Krenzen Auto Group has more variety among its used stock.
Three pre-owned vehicles are currently available as part of a list of limited-time Manager's Specials. Two of these special offer vehicles are luxury vehicles. First off, there is a 2016 Lexus GS 350 with all-wheel-drive and a price tag at $29,999 that comes from a local trade. The other luxury vehicle is an SUV, a 2017 BMW X3. This vehicle also has all-wheel-drive and a lighter price of $26,998. The third pre-owned vehicle on the list of special offers is a 2019 Ford F-150 XLT. It has low mileage and can be purchased for $29,999.
Three new models are also listed as part of the Manager's Specials. Each of these comes from the Krenzen Auto Group's ample stock of Nissan vehicles. These special offers cover the following Nissan models: the Altima, Rogue and Murano. All three of these models only qualify for the special if they are from the 2020 model year.
There are 11 Nissan Altima models in the new car Manager's Specials list. Most of them are white, silver or black and almost all of them have all-wheel-drive. 37 Nissan Rogue vehicles are included as well, with all but one of each equipped with all-wheel-drive technology. That's not the only Nissan SUV available, as there are also 20 Nissan Murano models that qualify for the special. Once again, all-wheel-drive comes on most of them. Just like the Rogue and Altima models, the color selection is rather limited.
Car Shoppers interested in the Manager's Specials are encouraged to contact Krenzen Auto Group with a phone call to 218-727-2905 or at any of the dealerships. The Krenzen Honda dealership is located at 4160 Haines Rd. Duluth, Minnesota, 55811. The Krenzen Lincoln dealership is located at 2500 Mall Drive Duluth, Minnesota, 55811. The Krenzen Nissan dealership shares its address with the Krenzen Lincoln dealership at 2500 Mall Drive Duluth, Minnesota, 55811.