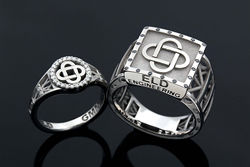 "Giving such an impactful gift to an employee or client really shows the prestige of your organization and acknowledges their worth to you."- Krikawa Jewelry CEO, Lisa Krikawa
TUCSON, Ariz. (PRWEB) June 18, 2019
Can you imagine your brand dripping in jewels? This is the question Krikawa Jewelry Designs, Inc., has started to answer for organizations around the globe. On June 1, 2019 its new division Krikawa Corporate Jeweler was launched. The division specializes in handcrafted branded employee appreciation gifts, recognition awards, and executive and client jewelry.
Krikawa Jewelry Designs began making luxury corporate gifts for Cargill Inc. in 2014; since 2008 the custom design jewelry house has created graduation medallions for the University of Arizona Honors College and employee recognition awards for an engineering firm. Krikawa Jewelry CEO, Lisa Krikawa, seized an opportunity in the market for this service and opened a separate division focused solely on custom luxury corporate gifts.
"It is satisfying to bring a logo and brand to life in precious metals and gemstones," Krikawa said. "Giving such an impactful gift to an employee or client really shows the prestige of your organization and acknowledges their worth to you. It doesn't necessarily need to be a gift; making branded jewelry for company leaders to wear can make a powerful statement."
Krikawa Jewelry Designs Inc., a family-owned small business founded in 1998, has created over 10,000 unique wedding and engagement rings as well as other custom jewelry items for clients worldwide. In addition to a large online presence, it has a spacious brick-and-mortar store conveniently located in downtown Tucson, AZ.
More information about Krikawa Corporate Jeweler can be found on its website.
###
For More Information:
McLane Moody
Marketing Director
520-322-6090
market.strat(at)krikawa.com