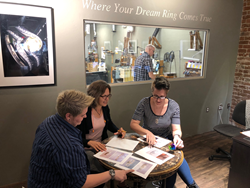 "We are honored to have the opportunity to show our LGBTQ+ community our love and support by making crowns fit for royalty! I'm passionate about all the meaning that we are putting into these crowns. They are going to be stunning." - Lisa Krikawa, Krikawa Jewelry CEO
TUCSON, Ariz. (PRWEB) June 24, 2019
A winner isn't a true champion until the crowning glory of endless sparkle and intricate metal work. Krikawa Jewelry Designs is honored to announce it is handcrafting two unique crowns that will be presented to the winners of the Tucson Pride Royalty Contest on September 28, 2019.
This is Krikawa's first time designing crowns for the annual Tucson Pride Parade and Festival event. The 2019 Tucson Pride event "Rise Up" celebrates the 50th anniversary of the Stonewall Riots and five decades of progress for the LGBTQ+ community.
Krikawa Jewelry CEO, Lisa Krikawa is excited for this opportunity to support the local LGBTQ+ community.
"We are honored to have the opportunity to show our LGBTQ+ community our love and support by making crowns fit for royalty! I'm passionate about all the meaning that we are putting into these crowns. They are going to be stunning," Krikawa said. "It's important to us that LGBTQ+ individuals are embraced by our company and feel welcomed when creating a ring with us."
According to Stephen Myers-Fulgham, Program Director for 2019 Tucson Pride Royalty Contest, creating partnerships with local businesses such as Krikawa are key to a successful event, which places a greater emphasis on both community outreach throughout Tucson as well as gender-inclusivity within the pageant itself.
"This year's contest is a departure from the recent pageant format for Tucson Pride. We've placed an emphasis on grassroots fundraising through community outreach and engagement. We've also taken steps toward a more inclusive contest by eliminating cis-gender titles. In doing so, we've opened up this opportunity to anyone who wants to compete regardless of gender identity," Myers-Fulgham said. "The success of this year's program hinges on the ability of contestants to employ creative events to raise funds for Tucson Pride. Moreover, it hinges on our organization's ability to keep program costs at a minimum. Krikawa is partnering with us to achieve exactly that…"
People can follow the crowns' design process on Krikawa's Instagram @krikawajewelry and learn more about rings it has previously designed for LGBTQ+ couples here.
Krikawa Jewelry Designs Inc., a family-owned, independent small business founded in 1998, has created over 10,000 unique wedding and engagement rings as well as other custom jewelry items for clients worldwide. In addition to a large online presence, it has a brick-and-mortar store in downtown Tucson.
More information about Krikawa Jewelry Designs can be found on its website.