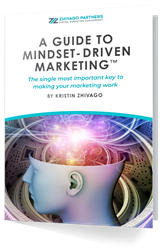 Personas don't buy products. Mindsets do.
JAMESTOWN, R.I. (PRWEB) July 07, 2020
Revenue coach Kristin Zhivago, founder and president of the digital marketing management agency Zhivago Partners, is introducing a new marketing strategy that, according to Zhivago, "finally gets marketing campaigns on the right track from the start." She and her team call the concept "Mindset-Driven Marketing.™"
"For years, marketers have been focused on 'who' the buyers are (personas) and 'where' the buyers gather (channels), while ignoring the most important factor: the Mindset of the buyer when they set out to make a purchase," says Zhivago. "Personas don't buy products and services; Mindsets do. And no channels will work if the message you put there is off the mark."
It is only when a buyer has a very specific need that he or she is ready to buy a certain type of product or service. "Once the person is ready, they are on a hunt for a very specific solution. You need to be there—with an offer that resonates with their very specific Mindset. That's what your marketing should be doing for you."
Zhivago was one of the first marketing experts to focus on the customer's buying journey, rather than the sales process. "I've interviewed thousands of customers for hundreds of companies," she says. "There is always a large gap between what a company's managers think matters to their customers, and what really matters to their customers. This problem has only gotten worse, as customers have access to each other and do not need to depend on information provided by sellers. Today's customers do not want to be sold to. They want the offering company to understand their very specific needs, and honestly answer their very specific questions about those needs."
Mindset-Driven Marketing
Zhivago and her team have had significant success generating leads for clients by helping clients focus on the Mindset of their customers at that time of need.
"We start by interviewing their current customers, which is the fastest way to determine the Mindset of the buyer," Zhivago says. "Current customers have a vested interest in your success, after they have made a purchase, and are more than happy to tell you what they're thinking, after they buy. They won't, by the way, reveal much of anything to you while you're selling to them; they are in negotiation mode. But after, if you ask the right questions the right way (something I describe in detail in my book, Roadmap to Revenue: How to Sell the Way Your Customers Want to Buy), you will be able to identify their precise buying-process Mindset. And you'll be able to use that Mindset information to create campaigns that work."
"Campaigns created without paying attention to the Mindset of the customer are nothing more than corporate bragging or corporate guessing," says Zhivago. "These campaigns make the company's executives feel good, but they ignore the Mindset of the customer, so they are irrelevant and ineffective. As buyers, we know this; we all tune out commercial messages when they do not address our very specific needs. As sellers, we shift into chest-pounding mode, eager to brag about our accomplishments, and to broadcast those accomplishments to potential customers. It's a complete waste of money, time, and effort."
Zhivago has written a mini-guide that explains how Mindset-Driven Marketing works. "I'd love for everyone to understand this concept and put it to work," says Zhivago. "If all companies marketed this way to their customers, more customers would be satisfied, and more companies would prosper. It's a real shame when a company comes up with a product or service that does, in fact, meet a need, but then is not marketed in a way that appeals to the customer. The key is to identify the Mindset, make an offer that appeals to that Mindset, and then decide which channels should carry that message. As one of our clients says, this approach leads to 'an astonishingly high number of inquiries.'"
------------------------------------
Zhivago Partners is a digital marketing management company based in Jamestown, RI, founded and run by president Kristin Zhivago. Zhivago is a revenue coach who helps CEOs and entrepreneurs sell more by understanding what their customers are really buying and how they want to buy it. She is the author of the 5-star book, Roadmap to Revenue: How to Sell the Way Your Customers Want to Buy. She and her team of digital marketing experts provide the full range of digital marketing services, including online advertising, search engine optimization, content marketing, social marketing, account-based marketing, email marketing, website development, influencer marketing, and video. Mindset-Driven Marketing is a trademark of Zhivago Partners.