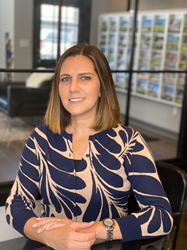 LITCHFIELD COUNTY, Conn. (PRWEB) February 19, 2020
William Pitt Sotheby's International Realty today announced that Kristine Newell, manager of the firm's four Litchfield County brokerages and regional manager for the Hartford County regional brokerage, has been named the company's 2019 Manager of the Year. Newell was chosen from among 16 brokerage managers for the honor, winning the award for the second consecutive year.
With 19 years of expertise in real estate, Newell has served as a brokerage manager with the firm since 2015. Under Newell's leadership, the company has been a consistently dominating force in Litchfield County, holding number one market share in sold dollar volume for each of the past five years, including again in 2019.
Her successes include spearheading the firm's expansion in 2018 into Hartford County, Conn., with the launch of a new office in Avon that now has 19 agents after less than two years of opening. From 2015-2018, she played a key role in growing the newly opened Berkshires, Mass., offices from eight agents to over 20. Newell also led the charge to relocate the Washington and Kent offices in the past few years into more visible high-trafficked locations, and she doubled the size of the Litchfield office. In 2019, the longtime top brokerage firm Best and Cavallaro joined the Salisbury Office, which is enjoying new prominent space on Main Street.
Newell has always placed a heavy emphasis on social media and innovative marketing, drawing upon her strengths in these areas to assist agents in providing the highest level of service to buyers and sellers, as well as targeting high net worth clients. She created the company's "Escape to the Hills" print, online and social media marketing campaign, introducing wider awareness of the unique and robust Litchfield Hills lifestyle. She is also a regular guest speaker at Sotheby's International Realty® offices throughout Connecticut, California and New York, and the host of a nationwide webinar series for managers called "Just Lunch."
"I am grateful for this award but also extremely humbled," said Newell. "My colleagues on our leadership team are the most talented and passionate leaders I have ever met. They continue to inspire me to be my best for the agents of Litchfield County. I am thankful to be able to live and work in this special corner of the world. My agents are simply amazing and work tirelessly for our clients."
Newell served as President of the Litchfield County Board of Realtors in 2019. She additionally focuses on strengthening the company's ties to the local community and organized several initiatives with William Pitt Sotheby's International Realty in 2019 that benefited The Litchfield Historical Society, Local Food Banks, Women's Support Services and The Litchfield Community Center. She is also on the Board of Directors for Prime Time House, a non-profit that supports adults with mental illness.
"Kristine continues to demonstrate her exceptional talent for drawing and retaining the top sales associates in Litchfield County, and providing them with superior support," said Paul Breunich, President and Chief Executive Officer of William Pitt-Julia B. Fee Sotheby's International Realty. "Kristine has been instrumental in our company maintaining its position as the top performing firm in Litchfield County by sold volume and units year after year. It is my honor to recognize her with this award for the second year in a row."
###
About William Pitt-Julia B. Fee Sotheby's International Realty
Founded in 1949, William Pitt-Julia B. Fee Sotheby's International Realty manages a $4 billion portfolio with more than 1,000 sales associates in 27 brokerages spanning Connecticut, Massachusetts, and Westchester County, New York. William Pitt-Julia B. Fee Sotheby's International Realty is one of the largest Sotheby's International Realty(R) affiliates globally and the 37th-largest real estate company by sales volume in the United States. For more information, visit the website at williampitt.com.
Sotheby's International Realty's worldwide network includes nearly 1,000 offices throughout 71 countries and territories on six continents.