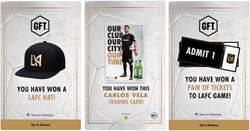 Our white label platform enables partners to engage in Blockchain technology in a simple, understandable, format
LOS ANGELES (PRWEB) September 19, 2018
Food 4 Less has partnered with Greenfence Consumer to deliver an exciting, gamified experience and exclusive collectible content, leveraging Blockchain technology and GFT™ Authentic Digital Collectibles™. Food 4 Less is supporting the Blockchain based promotion through in-store, digital and Blockchain marketing tactics to enable consumers with no exposure to the Blockchain, to engage in the promotion. The gameplay and prizing are authenticated, unique, fraud-proof, and completely secure from theft or duplication.
"When we knew that MLS would be expanding to Los Angeles with the LAFC, we really thought it was a great opportunity for us to embrace the team and the fanatical soccer community," says Eddie Vasquez, Customer Communications Manager for Food 4 Less.
As progressive brands like Heineken add new and exciting properties and talent like the LAFC and superstar Carlos Vela to their promotions, Food 4 Less looks for creative ways to build a relationship with their fans and customers. Food 4 Less partnered with Greenfence Consumer to take advantage of the next generation in promotions and marketing that Greenfence is uniquely positioned to provide including coupons, rebates, and GFT™ Authentic Digital Collectibles™, powered by Blockchain technologies.
"For Greenfence Consumer, the excitement of this program is the application of Blockchain technology to drive CPE through mobile. Our white label platform enables partners to engage in Blockchain technology in a simple, understandable, format," said Scott Loyola, Greenfence Consumer's Co-Founder.
The promotion runs at Food4Less in Southern California in order to engage local soccer fans through November 30th, 2018. Consumers can text "LAFC" to 63566 or go directly to http://www.hknlarivalry.com to take part in a digital Scratch N' Win game on their mobile phone.
According to Morgan Martin, Greenfence Consumer's head of partnership integration, consumers can come back each day for a new chance to win. Prizes included LAFC tickets, LAFC merchandise, and GFT™ Authentic Digital Collectible™ cards with Superstar Carlos Vela. "The game itself as well as any of the prizes can be shared with friends and/or traded safely and securely among participants in the promotion, adding a unique social component to the experience," said Martin.