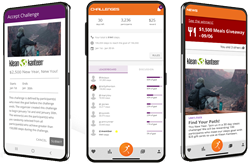 "We've all learned during this COVID-19 pandemic that maintaining a healthy immune system and an active lifestyle is critical. KrowdFit's unique self-improvement challenge technology combines fitness tracking with monetary rewards and gives brands the opportunity to reinforce the importance of healt
BEND, Ore. (PRWEB) December 03, 2020
KrowdFit, the only cash-back wellness incentive program in the U.S. and Canada, today announced its new self-improvement fitness challenge platform, BringIt, which gives brands' loyalty marketing teams the ability to engage their customers in customizable health and fitness challenges.
KrowdFit's BringIt platform supports "skill-based" self-improvement fitness challenges designed for brands interested in promoting and advocating the importance of living a healthy, active lifestyle in a unique and engaging way to their social media followers. With BringIt, brands are given the ability to sponsor challenges, where participants compete against each other across various activities including steps, sleep, and physical activity to win e-gift cards to purchase the brand sponsor's merchandise. BringIt participants must install the KrowdFit App for free and then use wearable technology such as Fitbit, Garmin, Apple Watch, Misfit, partner's fitness App, Smartphone, etc. to participate for free.
With the BringIt platform, companies can socially engage their customers in an exciting new way to increase brand awareness, increase customer loyalty, introduce new products/services, and reinforce company values. In addition to promoting healthy competition among the brands' customer base and engaging their followers, brands will receive Activity Reports allowing them to see who their most physically active followers, customers, and use these insights to target those highly active individuals with special offers to purchase new products and/or become brand ambassadors.
"We've all learned during this COVID-19 pandemic that maintaining a healthy immune system and an active lifestyle is critical. KrowdFit's unique self-improvement challenge technology combines fitness tracking with monetary rewards and gives brands the opportunity to reinforce the importance of health and reward their customers for the effort they make to live a healthy, active lifestyle while promoting the brand's healthy values," said Jim Miller, CEO and founder of KrowdFit. "Brands have full reign to customize a BringIt wellness challenge that reinforces their own values and KrowdFit handles the rest, from managing the leaderboard, reward fulfillment, and tax reporting."
BringIt is powered by KrowdFit, a science-backed wellness engagement and incentive platform that has paid out millions in KrowdFit funded cash rewards to its members to-date for engaging in daily wellness activities, such as mindfulness, sleep, steps, meal logging, and physical activity. By using the latest wearable devices, smartphones, and popular diet, fitness, sleep and mindfulness apps, KrowdFit members' activities are automatically logged into the KrowdFit app. Each time an activity is logged, members seamlessly earn entries into one of five different cash giveaways, making them eligible to receive weekly, monthly, and quarterly cash incentives of up to $5,000/ea. or more per winner.
For more information, visit http://www.krowdfit.com/bringit
About KrowdFit
KrowdFit® has paid out millions in KrowdFit sponsored cash rewards and is the recognized leader in milestone-driven, wellness incentive, and engagement programs. KrowdFit's mission is to create a healthy revolution by encouraging, recognizing, and rewarding the consistent effort people make to live healthy, active lifestyles. KrowdFit's patent-pending, skill-based, fitness betting, self-improvement challenge platform BringIt® has proven to drive very high levels of sustained engagement leading to positive outcomes and long-term, healthy behavioral change. KrowdFit is headquartered in Bend, OR with an in-office in Bellevue, WA. For more information, visit http://www.krowdfit.com.
Media Contact:
Max Borges Agency for KrowdFit
krowdfit@maxborgesagency.com