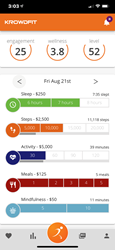 "When it comes to employee wellness, engagement is critical, especially during the pandemic where stress and anxiety are heightened," said Jim Miller, CEO and founder of KrowdFit."
BEND, Ore. (PRWEB) October 05, 2020
KrowdFit , the recognized leader in milestone-driven, cash incentivized employee-wellness reward programs, today announced its newest incentive program - the Mindfulness Cash Giveaway. The KrowdFit Mindfulness Cash Giveaway rewards members for taking five minutes a day to be mindful of themselves by participating in mindfulness exercises on supported apps.
Krowdfit members can earn entries into the bi-monthly $600 cash giveaway by using the mindfulness exercises in the free Fitbit app, or by connecting Calm, Headspace, or Stop Breathe & Think to Google Fit or Apple Health, which will track members' engagement. To connect Apple Health and Google Fit to Krowdfit, users simply install the Krowdfit Connector app from the App Store, then sync their health kit data to the Krowdfit platform. Members can earn two entries a day for 10 minutes of mindfulness (5 minutes per entry). Winners are randomly selected twice a month, with six winners per drawing. Each winner will receive $50 through PayPal or by check.
"When it comes to employee wellness, engagement is critical, especially during the pandemic where stress and anxiety are heightened," said Jim Miller, CEO and founder of KrowdFit. "KrowdFit is a simple and exciting way to incentivize employees to make healthier choices every day that lead to long-term sustainable healthy habits. By recognizing and rewarding the effort of practicing mindfulness, our hope is that users are encouraged to take a moment for themselves, which is especially important during this uncertain time."
In addition to the $600 bi-monthly Mindfulness Cash Giveaway, Krowdfit also rewards meal logging, sleep tracking, steps counting, and physical activity. The weekly meal logging giveaway pays out $1,500 to 12 winners at $125 each, while the monthly sleep giveaway pays out $2,000 to eight winners at $250 each. The $5,000 steps and $20,000 physical activity giveaways are quarterly, rewarding two winners $2,500 each and four winners $5,000 each, respectively.
KrowdFit has paid out millions in KrowdFit sponsored cash rewards to-date and is the largest cash-back wellness incentive program in the U.S. and Canada. The platform has driven a 72% sustained engagement rate for 97% of active members over the past four years. The average member accesses the app 2.3 times per day, 5.4 days per week, and wins $450 a year. There is no limit on member winnings, and the rewards pool grows by $10,000 per month as new members join.
Krowdfit directly integrates with Fitbit, Garmin, Apple Watch and Misfit and is also compatible with Apple Health Kit and Google Fit. Krowdfit is a SOC 2 Type II Certified – HIPAA compliant employee wellness program, works with large and small companies across the U.S. and Canada. For more information, visit http://www.krowdfit.com.