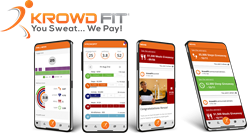 BEND, Ore. (PRWEB) November 10, 2020
KrowdFit, the only cash-back wellness incentive program in the U.S. and Canada, today announced that its proven enterprise rewards program is now available to individuals. Unlike traditional incentivized wellness programs that focus strictly on granting prize money for weight loss, KrowdFit rewards its members with cash every Monday for engaging in daily wellness activities, such as mindfulness, healthy sleep, steps, food logging, and physical activity.
By using the latest wearable devices, smartphones and popular diet, fitness, sleep and mindfulness apps, KrowdFit members' sleep, steps, mindfulness, and fitness activities are automatically logged into the KrowdFit app. Each time an activity is logged, members automatically earn an entry into one of five different cash giveaways, making them eligible to receive weekly, monthly, and quarterly cash incentives of up to $5,000/ea. or more per winner.
"Research has shown that monetary incentives enhance the effectiveness of attaining fitness and wellness goals of all sorts, especially when tied to a social network," said Jim Miller, CEO and founder of KrowdFit. "There is no silver bullet - change occurs over time, step by step, which is why we're committed to rewarding our members for the effort they make to consistently engage in healthy activities regardless of how much they weigh or how fit they are."
KrowdFit's wellness incentive program and behavior modification methodology are founded on research and proven science by The Journal of the American Medical Association and the Mayo Clinic. Through operant conditioning, KrowdFit reinforces and rewards small, achievable goals that lead to long-term behavioral change.
Over the past several years, KrowdFit has paid out more than $2 million in cash rewards through its employee wellness program, with the average member winning $450 a year. KrowdFit members are seeing results, 62% of active members reporting walking and moving more, 67% reporting improved eating and sleeping habits, and 53% reporting weight loss.
"An ever-increasing number of Americans already have a smartphone, a wearable device, or a fitness app of some sort. So, why not connect them to KrowdFit for free and be rewarded for the effort you make to eat, sleep, walk, and meditate? It really is that simple," said Jim Miller, CEO and founder of KrowdFit.
KrowdFit automatically logs member activity by connecting directly with popular fitness tracking apps and devices, including Fitbit®️, AppleWatch®️, Garmin Connect®️, and Misfit®️. KrowdFit also connects with Google Fit®️ and Apple Health Kit®️, through which users can sync their data from additional connected wellness apps, including Calm, Headspace, MyLife, Peloton, and MyFitnessPal.
With each activity entry logged on KrowdFit, members become eligible for one of the five cash giveaways listed below. Winners are randomly selected, and rewards are not based on activity results or performance.
$600 Bi-Monthly Mindfulness Cash Giveaway: Six winners are selected twice a month to split a $300 cash prize at $50 each. Members can earn one entry per five minutes of mindfulness, with a maximum of two entries per day.
$1,500 Weekly Meal Logging Cash Giveaway: Twelve winners are selected weekly to split a $1,500 cash prize at $125 each. Members can earn one entry per meal logged, with a maximum of five entries per day.
$2,000 Monthly Sleep Cash Giveaway: Eight winners are selected monthly to split a $2,000 cash prize at $250 each. Members can earn up to three entries per day for eight hours of sleep.
$5,000 Quarterly Steps Cash Giveaway: Two winners are selected quarterly to split a $5,000 cash prize at $2,500 each. Members can earn one entry for 5,000 steps or four entries per day.
$20,000 Quarterly Physical Activity Giveaway: Four winners are selected quarterly to split a $20,000 cash prize at $5,000 each. Members can earn one entry for 30 minutes of activity or a maximum of four entries per day.
KrowdFit is the only cash-back wellness incentive program to pay out cash rewards from its own unlimited cash rewards pool, which means members are not required to contribute any cash to be eligible to receive a reward. The rewards pool increases as new members join, allowing KrowdFit to pay out more people every week. There is no limit to how much cash members can win. In fact, members can win KrowdFit's rewards over and over again, they just can't win the same reward in back-to-back periods.
KrowdFit is free to use, however, members can choose to subscribe for Premium Membership for $1.99/mo. or $17.99/yr., providing members the ability to Level-Up and receive automatic bonus "Amp'd" entries to maximize their chances of winning.
Members can choose to experience the KrowdFit app as a website or install the app for a familiar mobile experience. To install the KrowdFit app and learn more, visit http://www.krowdfit.com.
About KrowdFit
KrowdFit® has paid out millions in KrowdFit sponsored cash rewards and is the recognized leader in milestone-driven, wellness incentive, and engagement programs. KrowdFit's mission is to create a healthy revolution by encouraging, recognizing, and rewarding the consistent effort people make to live healthy, active lifestyles. KrowdFit's patent-pending, skill-based, fitness betting, self-improvement challenge platform BringIt® has proven to drive very high levels of sustained engagement leading to positive outcomes and long-term, healthy behavioral change. KrowdFit is headquartered in Bend, OR with an in-office in Bellevue, WA. For more information, visit http://www.krowdfit.com.