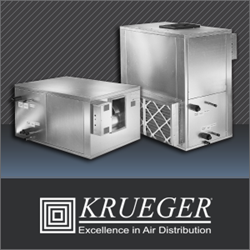 This portfolio expansion offers our customers the opportunity to bundle more Krueger-HVAC products on a job and allows them to bid a wider variety of projects.
Richardson, TX (PRWEB) March 18, 2015
Small commercial air handler units, also known as blower coils, are used in a variety of applications for their ability to provide airflow to multiple spaces over long duct runs. In fact, these belt-driven units feature a range of airflow capacities, segments, arrangements, and options to satisfy nearly any commercial application, including schools, offices, stores, and apartment buildings, just to name a few.
Krueger-HVAC now offers five different models of blower coils that are divided into three different groups: Standard, Small Footprint, and Modular.

KBH – Standard, Horizontal Blower Coil
KBV – Standard, Vertical Blower Coil
KSB - Small Footprint, Vertical Blower Coil with Rear Return
KSL - Small Footprint, Vertical Blower Coil with Bottom Return
KBM - Modular Blower Coil
While all the units exhibit similar traits, each offers a unique set of features that can be beneficial for certain applications. Krueger-HVAC standard horizontal and vertical blower coil units achieve higher airflows at higher static pressures than typical direct drive fan coils, making them a common choice for a large majority of building applications. When floor space is at a premium and thermal loads are high, Krueger's small footprint, vertical models are an ideal solution. Nominal capacities on these units range from 2 tons to nearly 8 tons with a footprint that is just slightly larger than a vertical fan coil unit. For complete flexibility and to meet challenging space limitations or obstructions, indoor air quality (IAQ) requirements, control selections, or stringent acoustical demands, the vast number of options available with the modular blower coil will allow for a truly custom solution that will deliver on all points.
"Blower coils are a tremendous addition to our ever expanding line of equipment products. This portfolio expansion offers our customers the opportunity to bundle more Krueger-HVAC products on a job and allows them to bid a wider variety of projects," said Paul Christiansen, Vice President of Sales and Marketing at Krueger-HVAC. "This is a perfect example of our commitment to continuously look for ways to add value to our customer's businesses."
Much like its previous version that introduced fan coil selection, Krueger's K-Select 13.0 software with blower coil selection provides engineers with a far more robust set of coil options, whereby they can use the information to either develop product performance data based on building requirements or manually set coil parameters when specifying products based on schedules. Such options include the number of coil rows, fins per inch (FPI), as well as tube wall thickness. To further provide engineers with greater design flexibility, two new coil types have been added: direct expansion (DX) cooling coils and steam coils.
Features for Blower Coil Units in K-Select:

Ability to save master defaults to specific options for future projects.
Incorporated functionality with a 'drag and drop' sortable schedule.
Clean display of exported files to Microsoft® Excel®, Microsoft® Word®, and Adobe® PDF.
'Auto-size' option to display multiple size options per selection.
'Save and new' button to quickly add another selection.
Once selections have been made in K-Select, generating product and performance information is simple. Available are two different types of reports, the first being a standard project schedule that is organized by unit type. The second offers a more detailed look at each individual unit selection. Complete with export options to Microsoft® Excel®, Microsoft® Word®, or Adobe® PDF, engineers will appreciate both the ability to customize the presentation of material as well as the ease of distributing job information.
For engineers that already have the previous version installed (K-Select 12.0), performing an update from within the program, either manually or via auto-update, will upgrade the software to version 13.0, which will then allow access to blower coil selections. Alternatively, for those that want to begin using it can download it from our website at http://www.krueger-hvac.com/public/software/k-select.
About Krueger-HVAC
Krueger-HVAC is a leading manufacturer of air distribution solutions for commercial and industrial applications, including grilles, registers, diffusers, terminal units, fan coils, blower coils, underfloor products, critical room products, fan filter units, displacement ventilation, as well as chilled beams. Krueger-HVAC is a brand within Air System Components, Inc. (ASC). ASC is a division of Air Distribution Technologies, Inc (ADTI). ADTI is a subsidiary of Johnson Controls. For more information about Krueger-HVAC air distribution solutions or to obtain a copy of Krueger's Product Catalog, contact your local Krueger-HVAC representative or visit us on the web http://www.krueger-hvac.com.