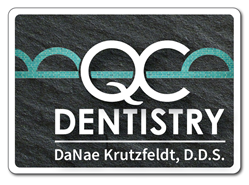 "Dentistry is going digital," said Dr. DaNae Krutzfeldt, Owner of Krutzfeldt QC Dentistry. "Adding this new piece of equipment benefits the patient by allowing us even more information about their dental health and care while also providing a much more comfortable experience during the examination."
DAVENPORT, Iowa (PRWEB) January 29, 2019
Going to the dentist these days may feel like a trip into the future. The dental office is being transformed by technology and Krutzfeldt QC Dentistry has incorporated it into their patient's dental care.
A new piece of equipment called Progeny Vantage Digital Panoramic System was recently installed that will provide a digital low radiation procedure for dental examinations and dental care.
With the Progency, the patient's head is steadied, and the patient bites on a bite stick. The machine encircles the head and creates a two-dimensional image of the upper and lower jaws, all the teeth and the supporting structures. It captures the entire mouth in a single image, including the teeth, upper and lower jaws, and surrounding structures and tissue. All this is done with a significant reduction in radiation over traditional x-rays.
"Dentistry is going digital," said Dr. DaNae Krutzfeldt, Owner of Krutzfeldt QC Dentistry. "Adding this new piece of equipment benefits the patient by allowing us even more information about their dental health and care while also providing a much more comfortable experience during the examination."
The entire staff recently attended an in-service training on the new Progency that provided hands on instruction on positioning of the patient and how to use the digital software system from Midmark. The equipment was purchased through Henry Schein Dental.
Additional remodeling improvements are also being made at Krutzfeldt QC Dentistry with new operatories and equipment along with numerous cosmetic improvements. An Open House and Ribbon Cutting will be held in early spring that will be open to the public.
Krutzfeldt QC Dentistry is located at 3475 Jersey Ridge Road, Davenport, IA 52807. For additional information go to http://www.qcdentistry.com, call 563-359-5510 or email info(at)qcdentistry(dot)com. Follow along with Facebook and LinkedIn.