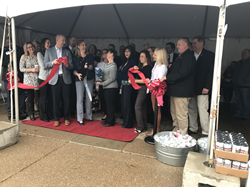 Dr. DaNae Krutzfeldt spoke about her staff, "I want to thank my team. I can not dowhat I do without them. They are my backbone."
DAVENPORT, Iowa (PRWEB) April 11, 2019
Big red bows on stanchions and a red ribbon stretched across a red carpet were a fitting setting to officially announce the completion of the remodeling and new dental equipment project at the Krutzfeldt QC Dentistry location.
Ambassadors from the Quad City Chamber business leaders, patients, staff, family and friends all gathered as Dr. DaNae Krutzfeldt cut the ribbon before speaking to the group on the project. "I want to thank my team. I can not do what I do without them. They are my backbone."
The project included extensive remodeling of the dental clinic to provide a positive experience for the patients as well as increase the efficiency of their care. New dental equipment, sterilization room, reception area and a Progeny Vantage Digital Panoramic System were recently installed that will provide a digital low radiation procedure for dental examinations and dental care.
Additional speakers included Paul Rumler, CEO/President of the Quad City Chamber, Alderman Rich Clewell for the City of Davenport and Jerod Engler, Vice President of Construction from Bush Construction. Paul declared it a "chamber moment despite the weather" and Jerod thanked all the staff for their support during the construction process.
Krutzfeldt QC Dentistry provides dental services for the entire family and is accepting new patients. New patients and their families are also welcome to visit the clinic before their visit and ask questions. Additional dental services include ClearCorrect which is a clear aligner system used to straighten teeth as an alternative to traditional braces.
You will find Krutzfeldt QC Dentistry at 3475 Jersey Ridge Road, Davenport, IA. Additional information is available at http://www.qcdentistry.com, email to info(at)qcdentistry.com and by calling 563-359-5510. Everyone is invited to follow along on Facebook and LinkedIn.