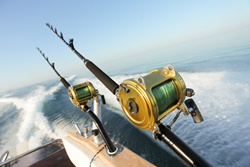 Check out Cancun For your Bucket list Marlin. Krystal Cancun the best in Timeshare
Miami,FL (PRWEB) October 07, 2015
Travelers to Cancun face the most envious of vacation problems: an overabundance of activities to pick from. Krystal Cancun Timeshare knows that visitors here can take their pick from relaxing at one the beaches, eating authentic Mexican seafood dishes, taking part in the town's exciting nightlife, or just enjoying their amazing accommodations.
Those guests who are searching for more excitement coupled with gorgeous ocean views can find both in a sport fishing trip in Cancun. There are myriad sport fishing charters to choose from and a wide variety of fish to catch. That is why Krystal Cancun Timeshare has put together this list of the top three reasons travelers should choose Cancun for their sport fishing vacation.
1. Variety: The Caribbean waters off the coast of Cancun are home to a wide variety of fish. Krystal Cancun Timeshare shares that sports fishing enthusiasts can catch marlin, shark, grouper, Atlantic sailfish, amberjack, dolphin dorado, blackfin tuna, snapper, wahoo and barracuda. This October, expect to find plenty of opportunities to catch snapper, among others.
2. Beautiful views: Whether or not a tourist is taking a deep-fishing charter or has chosen something closer to shore, everyone will get a wonderful view of the Yucatan Peninsula. The beautiful, sandy beaches and tropical flora make for an enchanting sight when looking back toward shore. Krystal Cancun Timeshare shares that there is nothing quite like watching the light of the rising sun slowly creep over the peninsula. Seeing the sunset behind the peninsula can be just as spectacular.
3. Year-round fishing: No matter when a traveler can get away from home and the office, he or she will find that there are fishing charters available. Because of the variety of fish off the coast of Cancun (see No. 1), there are fish available to catch every day of the year. Some fish are catch-and-release, such as marlin and sailfish, but others can be taken back to shore. Many sport fish are in season through fall and winter, including Mahi Mahi, roosterfish, sailfish, wahoo and bonito. Kingfish, on the other hand, are only in season from November through February, while amberjack are not in season in spring and summer months.
Travelers who want the best in accommodations and amenities while in Cancun choose Krystal Cancun Timeshare. As an industry leader, Krystal Cancun Timeshare has the expertise to deliver a traveler's dream vacation. To learn more, visit …Krystal Cancun Timeshare prides their business on being one of the top vacation authorities in the business, and consistently recommends attractions travelers will enjoy spending time at during their trips. For more information, visit them online at http://www.kivc.com/
###
Krystal Cancun Timeshare Contact Information:
Toll Free: 1-888-774-0040
Locally: (305) 774-0040
info(at)krystalcancun(dot)com
Check out more from KIVC