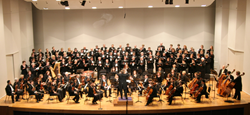 "Shostakovich's 1964 musical portrayal of the grisly poem by Yevgeny Yevtushenko is unabashedly sardonic and visceral ... — James Cassidy, KSO Music Director
Newport, KY (PRWEB) March 22, 2016
Joseph Stalin was the quintessential party-pooper, who squelched freedom and instilled mistrust and fear amongst all Russians. Only after the tyrant's death, could Dimitri Shostakovich and other Soviet composers feel slightly more confident about writing music without being censored or denounced by the Communist state.
The Kentucky Symphony Orchestra (KSO) continues its 24th season with an all-Shostakovich program dubbed "Heads will Roll" at Greaves Concert Hall on the campus of Northern Kentucky University. Before entering the lobby, patrons can celebrate the Cincinnati Reds opening week by testing their throwing arms at the KSO's "Dunk the Dictator" tank. A brave soul dressed as Stalin will sit precipitously above the frigid conditions to which the "Red Tsar" often subjected his countrymen and artists.
The program opens with Dimitri's Shostakovich's 10th Symphony, which scholars describe as a musical depiction of the oppressive Stalin years and even Stalin himself. The dictator's demise in 1953 ended a 31-year reign of terror, which led to the deaths of millions of Russian citizens. The 10th Symphony allowed Shostakovich to write a symphony for the first time in 9 years, without the constant fear of censorship, exile or execution. In his Tenth Shostakovich musically reflects his optimism, pessimism and realism without contradiction.
Following intermission baritone Kenneth Shaw along with 150 voices from the KSO Chorale, the Northern Kentucky Community Chorus (Stephanie Nash, director) and Voices of the Commonwealth (Tony Burdette, director) will join 70 KSO musicians on stage for the rarely heard "Execution of Stenka Razin." This symphonic poem/cantata recounts of the execution of the 17th century Cossack pirate Stepan (Stenka) Razin in Moscow's Red Square in 1671. The lore of Stenka Razin made him a Robin Hood of his time, leading Cossack and peasant armies in uprisings against the Shah of Persia and the nobility of Russia. "Shostakovich's 1964 musical portrayal of the grisly poem by Yevgeny Yevtushenko is unabashedly sardonic and visceral in its bombastic brass writing and serene haunting moments just before the ax falls. One can't help but believe that the subject matter together with Shostakovich's "in your face" score echos his sentiments against the Soviet system and its bloody and oppressive history" opined KSO Music Director, James Cassidy.
The Kentucky Symphony Orchestra fills the stage for an evening of late Shostakovich —
7:30 p.m., Saturday, April 9 at Greaves Concert Hall, NKU, Highland Heights, KY. Reserved seating tickets are $19, $27, $35 (children ages 6-18 are 50% off) and are available online kyso.org, by phone (859) 431-6216 or at the door.
About the KSO:
The Kentucky Symphony Orchestra takes the "phony" out of symphony through live thematic concerts that culturally enrich, educate and entertain the residents of Northern Kentucky and Greater Cincinnati. The KSO performs throughout Northern Kentucky performing three series of concerts.