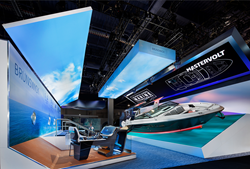 LAS VEGAS (PRWEB) March 13, 2020
kubik is proud to announce that Brunswick Corp.'s "Future of Boating" exhibit at the 2020 International Consumer Electronics Show (CES) was listed among the Best of CES by EXHIBITOR Magazine, the leader in trade show and corporate event marketing education. The annual ranking spotlights the top 20 best exhibits from among the more than 4,500 at this year's tradeshow held January 8 to 11.
The successful design collaboration between kubik, a leading experiential exhibit marketing agency, and Brunswick, marked the first time Brunswick exhibited at CES. kubik built on the Brunswick concept and original sketches, adding materials and visuals and introduced the digital elements to the exhibits. "We have our best successes when we can collaborate with a partner like Brunswick. Like us, the team at Brunswick is willing to work towards the best outcome, we were proud to help them bring their concept to a show floor and especially help make a dramatic debut at CES", said Elliot Kohn, COO of kubik,
The vision was to create something theatrical, with one side of the experience acting as a stage featuring the boat as the star, and the opposite side of the exhibit acting as a multi-level viewing platform. The craft itself was surrounded with a projection-mapped aquatic effect and an overhead 50' wide video wall, transporting visitors into a nautical watery world. Visitors were invited to sit in the stands and watch the integrated presentation or play with the two helms that flanked the viewing area. One helm was a recreation of the current Sea Ray controls, while the other was a future concept.
kubik was also the fabricator for the exhibit and provided installation at the Las Vegas show. Brunswick made a splash unveiling its Sea Ray's SLX-R 400e, one of the most innovative and connected boats in the marine industry. The stand-out exhibit featured the 40-foot boat, ambitiously mounted on an engineered cradle at a 20-degree tilt to maintain a dynamically active impression.
Lee Gordon, Director of Marine Communications & Public Relations at Brunswick Corporation commented,"kubik was able to take our idea and create a design experience that has set a new bar not just for our company, but for the entire marine industry. They designed an experience that cuts through the noise of CES and for a first-time exhibitor. For a company that isn't known as a technology company or a marine company, to have the amount of attention that we did was incredible."
CES International Consumer Electronics Show is held annually in Las Vegas, showcasing innovations and breakthrough technologies for 50 years. It serves as a gathering place for businesses of consumer technologies and sets the bar for global exhibiting trends. To earn a spot on the list, EXHIBITOR Magazine considered an exhibitor's brand architecture as well as how the space fostered immersive experiences, creative engagements, and brand-appropriate product integrations.
The Best of CES list can be viewed on http://www.ExhibitorOnline.com, and all 20 exhibits will be featured in the upcoming April 2020 issue of EXHIBITOR magazine.
About kubik
kubik is shaping brand stories into the most extraordinary experiences in the world while exceeding customer expectations with ingenuity, enthusiasm, loyalty, innovation and a drive to succeed. With global offices and capabilities worldwide, kubik produces award-winning exhibits and events for Fortune 500 companies and global brands for over 35 years. kubik maltbie has been a preeminent leader of museum environments and specialty interiors since 1961. Both kubik and kubik maltbie serve international clients with integrated global teams and facilities. For more information visit thinkubik.com or kubikmaltbie.com.
About Brunswick
Headquartered in Mettawa, Ill., Brunswick Corporation's leading consumer brands include Mercury Marine outboard engines; Mercury MerCruiser sterndrive and inboard packages; Mercury global parts and accessories including propellers and SmartCraft electronics; Power Products Integrated Solutions; MotorGuide trolling motors; Attwood, Garelick, and Whale marine parts; Land 'N' Sea, BLA, Payne's Marine, Kellogg Marine, and Lankhorst Taselaar marine parts distribution; Mercury and Quicksilver parts and oils; Bayliner, Boston Whaler, Crestliner, Cypress Cay, Harris, Lowe, Lund, Princecraft, Quicksilver, Rayglass, Sea Ray, Thunder Jet and Uttern boats; Boating Services Network, Freedom Boat Club, NAUTIC-ON, OnBoard Boating Club and Rentals. For more information, visit https://www.brunswick.com.
For more information contact:
Christine Picheca
Director of Marketing, kubik
ChristineP@thinkubik.com
905.272.2818 x293