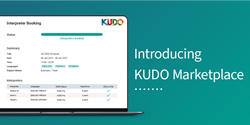 The introduction of KUDO Marketplace brings us closer to our goal of providing businesses worldwide, big or small, access to multilingual meetings
NEW YORK (PRWEB) January 14, 2021
KUDO inc., the leading Language-as-a-Service platform for online meetings, announced today the release of their new platform, KUDO Marketplace.
KUDO Marketplace is a groundbreaking new scheduling platform that provides clients with 24/7 access to thousands of KUDO Pro certified interpreters with real-time availability checks and instant booking confirmations. What was once a manual and time-consuming process, requiring multiple calls, scheduling, emailing, contract negotiating, and invoice tracking, KUDO has made automatic and time-saving.
"The introduction of KUDO Marketplace brings us closer to our goal of providing businesses worldwide, big or small, access to multilingual meetings" says CEO and Co-Founder Fardad Zabetian.
The new platform facilitates scheduling online multilingual meetings by reducing the number of touch points within the planning process. KUDO Marketplace automatically matches seasoned interpreters to meetings based on their language specificity, availability and skillset, in real-time.
KUDO Marketplace offers a level of convenience, quality assurance, and cost-effectiveness that has yet to be offered by any language-as-a-service platform:
"Clients can count on the best available interpreters being assigned to their meetings, every time," says Ewandro Magalhaes, Co-Founder and Chief Language Officer, "interpreters will have access to new markets beyond their current geography and be paid within 24 hours of the completion of their assignment."
KUDO Pro certified interpreters will have full visibility of their schedules and a worldwide client reach. Additionally, they will be able to accept multiple daily bookings, if they so choose, thus increasing their earning potential. All KUDO Pro interpreters are vetted for experience, subject matter expertise, and IT & connectivity infrastructure.
KUDO Marketplace revolutionizes multilingual online meetings by removing back-office pain points, streamlining and automating the interpreter booking process, ultimately making language more accessible for businesses of all sizes.
About KUDO
KUDO is a cloud-based collaboration platform that enables web meetings and live conferences with real-time multilingual language interpretation. KUDO supports more effective and inclusive meetings by allowing people and businesses to overcome communication barriers and speak their own language. Accessible from anywhere, on any device, KUDO redefines possibilities in global communication. KUDO, Inc. is a New-York based technology startup founded and managed by language and conferencing industry insiders looking to bring people together. More info at http://www.kudoway.com.