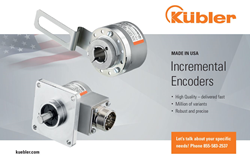 Kuebler / Kubler Encoders Incremental
CHARLOTTE, N.C. (PRWEB) March 25, 2020
Kuebler Inc - Now Manufacturing Incremental encoders in Charlotte NC
Kuebler is part of the global Kübler Group based in Villingen-Schwenningen, Germany with over 450 employees worldwide and sales in 50 countries, including 11 international subsidiaries. Kübler has 4 global production sites in Germany, India and in Charlotte, NC. Kübler is a leader in high quality rotary encoders, linear encoders, slip rings, as well as measuring devices and counters and process displays
Incremental encoders - Speed measuring on rotating axes with incremental encoders.
The Standard Encoder for automation.
Due to their sturdy bearing construction in Safety-Lock™ Design, the Sendix 5000 and 5020 offer high resistance against vibration and installation errors. The rugged housing, high protection level of up to IP67, as well as the wide temperature range of -40°C up to +85°C, make this product range the perfect encoder for all applications.
Robust performance

Increased resistance against vibrations and tolerance of installation errors, elimination of machine downtime and repairs thanks to sturdy bearing construction in "Safety-LockTM Design."
Ensures highest safety against field breakdowns and is thus suitable also for outside use thanks to its resistant die-cast housing and protection up to IP67.
Undetachable clamping ring on hollow shaft encoders.
Wide temperature range, -40°C ... +85°C.
NEW:

Higher shock resistance.
Higher vibration resistance.
IP66 and IP67 protection level in one version.
Many variants

Suitable connection variant for every specific case:
Cable connection, M12, M23, MIL and Sub-D connector.

Reliable mounting in a wide variety of installation situations:
Comprehensive and proven fixing possibilities.

Compatible with all US and European standards.
Max. 5000 pulses per revolution.
NEW:

Double number of standard pulse numbers.
Variants with connector fitted in the cable – for error-free electrical connection to your control.
Additional connector variants (M12 / 5-pin, Sub-D).
Additional standard cable lengths.
Contact us today for your Local Kuebler Encoders!