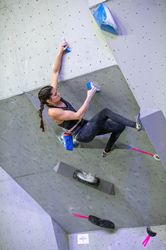 "I'm excited to partner with Kumiki Climbing."
MINNEAPOLIS (PRWEB) February 25, 2019
Kumiki Climbing is pleased to announce its sponsorship of professional rock climber and St. Paul native, Kyra Condie. Most recently, Condie was a two-time Bouldering World Cup finalist, 2019 Combined US National Champion and the 2019 USA Climbing Overall Bouldering Season Champion. When discussing her recent successes Condie stated, "I'm so excited for what the next year holds. It's such an important year in competition climbing and I can't wait to be a part of it." Condie's role with Kumiki Climbing will involve promotions and appearances. The sponsorship is part of Kumiki Climbing's ongoing support of athletes and the rock-climbing community.
"Kyra is an accomplished climber who works incredibly hard and is an ideal representative of Kumiki. The fact that she shares our Minnesota roots is just an added bonus," said Tim Sudeith, Kumiki Climbing's General Manager.
"I'm excited to partner with Kumiki Climbing. They've brought some innovative products into the market that allow both climbers and route-setters to get really creative with movement," said Condie.
About Kyra Condie:
Kyra is a 22-year-old professional climber based out of Minnesota. She is motivated by goals in both national and international competitions, as well as outdoor climbing. She's known for her regimented training routine and love of animals. Learn more: http://www.kyracondie.com.
About Kumiki Climbing:
A Kumiki is a Japanese interlocking wood puzzle. Like the artists that create these small, intricate masterpieces, Kumiki Climbing creates volumes and hand holds with artistry and precision that allow route setters to craft routes that are challenging, enigmatic and inspired. Kumiki Climbing is based in Minneapolis, MN. Learn more: http://www.kumikiclimbing.com.