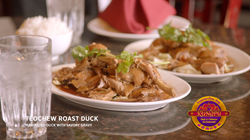 We started the trend of independent restauranteurs operating in the casinos, before us the casinos operated their own kitchens
LAS VEGAS (PRWEB) February 07, 2020
The oldest and longest operating Thai & Chinese restaurant in Las Vegas will be featured on No Passport Required Season 2, which airs on February 10, 2020 on all local PBS channels from 9:00pm to 10:00pm ET featuring celebrity Chef Marcus Samuelsson.
Open since 1973, Kung Fu Thai & Chinese Restaurant started out in a small space with just 8 tables on 3rd street and Fremont, in downtown Las Vegas by Chain and Sunee Wong. Both of whom had just immigrated to the United States from Thailand in 1967 to study English and Business. Upon deciding to remain in the United States after graduating college, both moved to Las Vegas from Los Angeles in 1971 to work in the casino industry. After saving enough money to start Kung Fu restaurant in 1973 both Chain and Sunee continued working in the casino industry until the restaurant became financially sustainable 5 years later.
Kung Fu became the first independently operated restaurant in a major hotel-casino in 1983, when Chain and Sunee opened the doors of Kung Fu Plaza Restaurant, located on the 3rd floor of the then Union Plaza Hotel in downtown Las Vegas. "We started the trend of independent restauranteurs operating in the casinos, before us the casinos operated their own kitchens, once they saw the effect we had, the rest is history", states Alan Wong, Son / Owner / General Manager of Kung Fu Thai & Chinese Restaurant.
Chef Samuelsson decided to feature the Kung Fu Roast Duck on the program. Since the recipe pre-dates Peking duck and is currently considered an endangered recipe-dish in the Thai-Chinese community both here in the United States and abroad in Thailand. The recipe comes from a small valley in China where "Teochew" (Chaozhou hua in Mandarin) Chinese dialect, are still spoken by the people. The cuisine, Teochew or Chiuchow as it is pronounced in Cantonese, relies much less on heavy seasoning, rather more on the quality of the ingredients, for instance, only Maple Leaf farm Premium Ducklings are purchased by Kung Fu, for the dish.
To review a complete menu, visit https://www.kungfuplaza.com. Kung Fu Restaurant is open for Lunch and Dinner, offers delivery within a three-mile radius and is located at 3505 S. Valley View Boulevard, which is just east of the Fashion Show Mall on the Las Vegas Strip. For reservations, call 702-247-4120.
Founded in 1973, Kung Fu Thai & Chinese Restaurant is the oldest and most authentic Thai & Chinese Restaurant in Las Vegas. It is open daily from 11 a.m. to 10:30 p.m. The average entree is $10 and most patrons order family style.