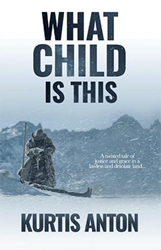 OCEANSIDE, Calif. (PRWEB) January 06, 2023
Good and evil battle for dominance in the settling of the human heart. Can a young couple with high hopes rise to the challenges when they become easy targets in an unforgiving new world? Readers are set to find out in Kurtis Anton's debut novel "What Child Is This" (published by Archway Publishing).
This historical fiction encompasses the definition of grace and mercy, transcending three generations, from 1870 to 1945. The story embodies compassion, lost hope, sacrifice, and the choice of life over death. Justice is delivered supernaturally over the many revengeful worthy acts which take place in this story, from beginning to end.
Wyola Everest is a beautiful young woman in love with a very good young man named Colton Jaminson. They have embarked together on a dream of an amazing future with huge, life-long plans. On their journey, they are abruptly and unexpectedly thrown into a fight for survival, derived through evil, at the greatest of all costs, their own life and self-sacrifice. Families, friends, and enemies alike, lay claim to both good and evil throughout this historic adventure. Who will win or lose, and at what price? This story takes readers through three generations of a family born through hate and evil, where each character reveals their true heart; not by their actions or words alone, but by way of their sacrifice or tempestuous demons, each residing, side by side, living within every man and in every human heart.
When asked what he wants readers to take away from the novel, the author states, "To ponder their lives and consider the lives of others. To not judge, as we all have a tendency to do things out of fear, which nine out of ten times, is in the name of survival. Instead we should sacrifice for our neighbor, striving to beget compassion over revenge."
"What Child Is This" is available for purchase in print and eBook format at https://www.archwaypublishing.com/en/bookstore/bookdetails/835461-what-child-is-this
"What Child Is This"
By Kurtis Anton
Hardcover | 5.5 x 8.5in | 332 pages | ISBN 9781665728911
Softcover | 5.5 x 8.5in | 332 pages | ISBN 9781665728935
E-Book | 332 pages | ISBN 9781665728928
Available at Amazon and Barnes & Noble
About the Author
Writer, director, producer, cinematographer Kurtis Anton was born in San Diego, California, to father Richard Anton, a German immigrant arriving to Ellis Island in 1947, and his wife Paulette, of Lansing, Michigan. He has two siblings, Denise and Richelle, and two children, Ambrielle and Timothy. He and his wife, Holly, reside in Oceanside, California. Anton has transformed his experience in over 40 years of music entertainment to filmmaking, bringing life-affirming values to movie audiences. He is passionate with the history of America and the settling of the West, especially the Eastern Sierra byway. At the time of this book's printing, he has produced and co-produced 46 motion picture projects, including 23 feature films, with his hope and long-term goal being to one day take "What Child is This" to the big screen. At the time of publication of "What Child Is This" in October of 2022, he was on the road across the country with his company, on a three-month tour, to shoot two more full-length feature films. One of Anton's pastimes includes skiing, and over the course of a decade, he took on the ascent and descent of 24 peaks in the Sierra Nevada Mountain Range and Western U.S, his last peak skied, being the key mountain in this magnificent adventure, Mt Morrison in the Sierra Nevada Mountains, and more specifically, Death Coulier.
Anton built and fully equipped Snakebyte Productions Studios and it has become a nationally recognized, reputable, domestic and internationally versatile, feature film production company. He has two new books in the works looking to be published in October of 2023, including the first being his next novel book, "Janie Fine." This story is a dramatic adventure, taking the readers to 1929 Chicago and the life of a world renowned Ballerina, who at that time is swept off her feet by a young German soldier visiting the United States. In love, Janie gives up everything, is taken on a boat to Germany, where she births her two children. Those lives are ripped apart by World War II in 1937. Subsequently, Janie loses her citizenship in the U.S. as a traitor, but is also pursued by her husband and his evil henchmen as a traitor to the Nazi nation. Janie is on the run, trying to find her children, is countryless. Is the perseverance she will need unattainable, or is it?
Anton is also underway writing his memoir, "Recognizing Grace," a self-reflective novel of the challenges of life worth living.
Simon & Schuster, a company with nearly ninety years of publishing experience, has teamed up with Author Solutions, LLC, the worldwide leader in self-publishing, to create Archway Publishing. With unique resources to support books of all kind, Archway Publishing offers a specialized approach to help every author reach his or her desired audience. For more information, visit archwaypublishing.com or call 844-669-3957.