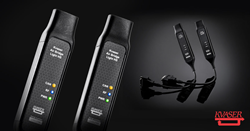 "Kvaser Air Bridge Light is a preconfigured CAN bridge that minimizes set-up time, whilst maximizing performance in line-of-sight CAN implementations, such as vehicle testing, motion control and in situations where CAN cables are exposed to harsh environments"
MÖLNDAL, Sweden (PRWEB) December 20, 2018
Kvaser, a global leader in CAN (Controller Area Network) development, is pleased to introduce the Kvaser Air Bridge Light HS, a high-performance wireless CAN bridge to connect CAN networks. Comprising a preconfigured pair of plug-and-play units, with integrated antennas and rugged housings, Kvaser Air Bridge Light HS provides a rapid way of exchanging raw CAN data.
Kvaser Air Bridge Light HS, the first in Kvaser's new Air Bridge product line, facilitates the job of the system integrator in situations that make wired connection unsuitable or challenging, such as between two moving parts that are connected by CAN. Employing a proprietary 2.4G radio and frequency hopping mechanism, the Kvaser Air Bridge Light HS controls the data rate, radio packet format, output power and pairing method to achieve predictable latencies, without sacrificing stability or range. This makes the Air Bridge effective in infrastructure and control applications, where accurate message delivery times are essential. Transmission range is as much as 70 m, with a maximum data rate of 1200 messages per second and a packet latency of 4.8 ms.
"Cabling is convenient in most environments but in some, such as motion control, it is challenging to implement and costly to maintain. Kvaser Air Bridge Light is a preconfigured CAN bridge that minimizes set-up time, whilst maximizing performance in line-of-sight CAN implementations, such as vehicle testing, motion control and in situations where CAN cables are exposed to harsh environments," commented Lars-Berno Fredriksson, president of Kvaser AB.
A key feature of the Kvaser Air Bridge Light is Automatic Baud Rate Detection, whereby the pair of devices automatically detects and connects to any of the following CAN network speeds: 1 Mbit/s, 500 Kbit/s, 250 Kbit/s, and 125 Kbit/s. Auto Baud Rate Detection is carried out locally on the device, enabling the Kvaser Air Bridge Light HS to link two CAN networks that are operating at different bitrates.
The Kvaser Air Bridge Light comes in two variants: (00808-3) Kvaser Air Bridge Light HS is approved for the European Union, while (01008-6) Kvaser Air Bridge Light HS (FCC) is optimized for the US. Both models share the same functionality but have different radio transmission schemes due to regulatory differences.
More information about the new Kvaser Air Bridge Light HS, including full performance and technical specifications, can be found at More information is available at http://www.kvaser.com/airbridge. The device can be ordered directly from Kvaser or through one of the company's authorized sales representatives.
Notes to editors: The Kvaser Air Bridge Light HS is the first of a new line of Kvaser products. 'Light' denotes that this is configuration-free.
About Kvaser: Kvaser is a world-leading CAN development company. We provide advanced CAN solutions to engineers designing and deploying systems in areas as wide-ranging as transportation (including electric vehicles), industrial automation, avionics, construction equipment, building automation, domestic appliances, marine, medical, military, railway, telecoms, textiles and more.
Kvaser is headquartered in Mölndal, Sweden, with regional offices in Mission Viejo, CA in the United States, and in Shanghai, China. Kvaser AB also has a global network of highly knowledgeable Qualified Resellers and Technical Associates. To find the nearest Kvaser supplier to you, please visit https://www.kvaser.com/products-services/where-to-buy/