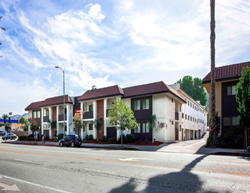 LOS ANGELES (PRWEB) May 22, 2020
Hooman Emanuel of KW Commercial represented a private Buyer in the acquisition of 8608 Foothill Blvd., in Sunland, California for $11,650,000. The property has 38 large units on an approximate 1 acre parcel. The building had just completed cosmetic upgrades and was in good condition. The Buyer was attracted to the building due to the upside in rents and felt the quality of the asset would be a good fit for his portfolio.
Hooman Emanuel and his group at Emanuel Real Estate Group focus mostly on off market apartment transactions, and has been involved in over $300M in sales.
For more information about this sale and other opportunities, contact:
Hooman Emanuel
Emanuel Real Estate Group, Inc.
KW Commercial
Direct: 818-335-0923
Email: hemanuel126@gmail.com